'I Can't Breathe' Eric Garner Death: Why Police Might Not Listen To Suspects Resisting Arrest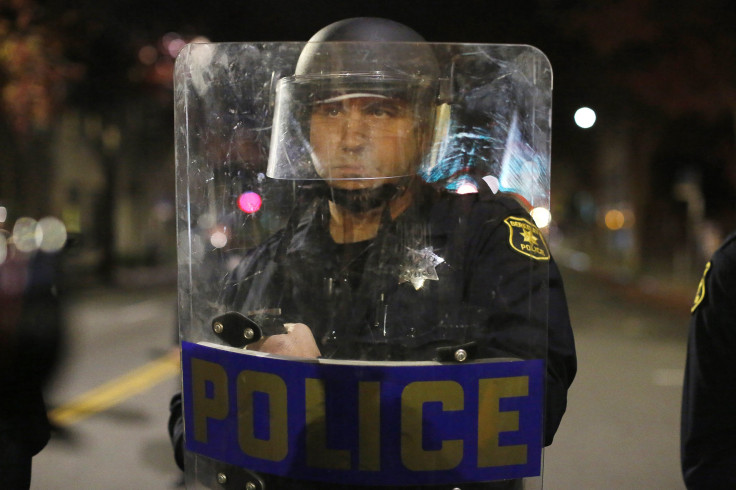 "I can't breathe" has become a rallying cry against police brutality across the nation since a New York City police officer put Eric Garner in a fatal chokehold earlier this year. Police officers insist that strong-arm tactics are necessary to take down criminals resisting arrest and ensure their own personal safety. But medical experts and human rights leaders claim chokeholds and other dangerous police actions go too far amid a law enforcement culture that encourages a lack of accountability and excessive force.
Dwayne Forseman, chief administration officer of the Paramedic Association of Canada, said it is the police officers' job first and foremost is to take control of the situation and of the suspect, but certain methods like the one used to take down Garner can be extremely dangerous. "What people need to be aware of is that when you put [a suspect] down on the ground, pile on and tie their hands behind their back, they are agitated already and probably breathing heavy. All of these things combined can lead a person to stop breathing," he said. "You have to keep in mind that the person is in a position where they can breathe," which could mean turning them from their stomachs or not tying them behind the back, he continued.
He suggested that "chemical restraint" using sedatives would be safer, but conceded that arrests can be dangerous regardless of the method of restraint used, especially when they involved large suspects. Garner was 6'4" and weight 350 pounds. Once police have control of the situation, it is largely their call as far as what to do with a suspect. When Forseman or any other paramedic arrives to administer care, they will "try to interject and suggest things, but until the situation is deemed safe [by police], we tend to hang back a bit."
Garner, a Staten Island man, died of cardiac arrest after being put in what appears to be an unsanctioned chokehold by NYPD officer Daniel Pantaleo, then tackled and pinned down by three other officers on July 14. The arrest was caught on tape, in which Garner can be heard saying "I can't breathe" at least 11 times. A grand jury's decision not to indict Pantaleo sparked protests across the country, compounded by the recent shooting death of Michael Brown in Ferguson and a grand jury decision not to indict the officer who killed him.
In Garner's case, despite his repeated calls of "I can't breathe," two NYPD Sergeants on scene both said in their reports that he did not appear to be in great stress nor was he getting any worse. Those officers, Pantaleo and another officer, Justin D'Amico, maintained that they had no choice but to physically take control of Garner. In addition, EMS workers who were later called to the scene did not administer CPR despite Garner being unresponsive.
Redditt Hudson, a former police officer and now chair of the Ethics Project at the NAACP, said in a Washington Post editorial that police don't have to worry about the consequences of their actions because they are rarely held accountable. NYPD medical examiners deemed Garner's death a homicide.
The Patrolmen's Benevolent Association of the City of New York, however, has vehemently defended Pantaleo's actions and largely placed the blame on Garner for resisting arrest. "If you can speak, you can breathe," said PBA President Patrick Lynch, later saying "you cannot resist arrest… Because resisting arrest leads to confrontation. Confrontation leads to tragedy," according to NBC News.
The Civilian Complaint Review Board in New York City received 1,128 chokehold complaints between 2009 and 2014, or one every two days, according to News Max. Chokeholds are prohibited by NYPD regulation. The PBA and Pantaleo's lawyer contend that he did not put Garner in a chokehold, but that hasn't stopped critics from arguing that Pantaleo and his colleagues used excessive force to take control of Garner.
"Resisting arrest" is defined differently in each state, but most local laws prohibit the same behavior: When an individual knowingly prevents or tries to prevent a police officer from lawfully arresting him or another. The definition seems clear, but would-be-arrestees might not think their arrest is lawful and so end up struggling against police.
There's often disagreement over what can be considered "excessive force," and unlike resisting arrest, there is no clear cut definition of "excessive force" across the country. That determination comes down to whether or not an officer "reasonably" believes that force is necessary to complete a legitimate police task, according to the Department of Justice.
New York City Mayor Bill de Blasio has said that the best way to prevent tragedies like Garner's death is to encourage police to avoid contentious situations like forceful arrests in the first place. If a confrontation is avoided, police do not have to make the decision whether or not to take control of the situation with violence. He said there's a problem with the culture at the NYPD, which prompted him to order new training for officers to prevent another tragedy.
A similar asphyxiation death happened in Los Angeles in 2013. Jorge Azucena, who like Garner was an asthmatic, died in an LAPD jail cell after police repeatedly ignored his pleas that he could not breathe. LAPD officers responded to his pleas much like NYPD officers responded to Garner: "You can breathe just fine," one said, according to the Los Angeles Times. "You can talk, so you can breathe."
Steven Soberoff, president of the Los Angeles Board of Police Commissioners, which oversees the LAPD, said it's not that police don't care about their suspects, but hinted that there could be a wider problem within the culture, at least in Los Angeles, that led to tragedies like Azucena's death. "It's important that we make sure officers know they can follow their own moral compass and can feel comfortable speaking up in any situation if they have questions about what is going on," he said.
But many big city police officers who patrol the street every day argue that the reality of police work requires officers to make the hard decisions to take control of a situation. A blog post on Second City Cop, a popular Chicago law enforcement blog, defended Pantaleo, noting "if you can yell, you can breathe, you're just wasting the breath fighting."
"When arrested, you don't get to resist arrest. Period. The law says so. You resist, there are rules in place to overcome your resistance. You are not a "jury of one" deciding what laws apply to you. Cops are authorized by the duly elected authority to overcome resistance," the post said.
© Copyright IBTimes 2022. All rights reserved.
FOLLOW MORE IBT NEWS ON THE BELOW CHANNELS