ICC Drops Case Against Muthaura, But Kenyan President-Elect Kenyatta Still Faces Trial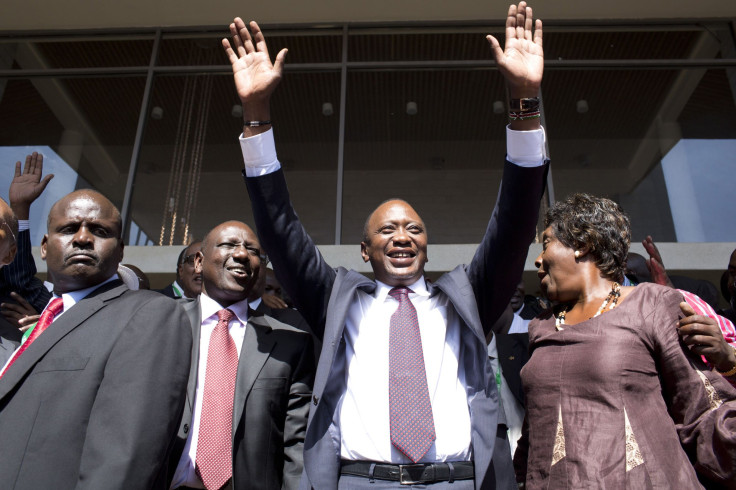 The International Criminal Court has dropped charges against Kenya's former Cabinet Secretary Francis Muthaura, who had been indicted by the court for committing crimes against humanity.
The decision comes days after a pivotal general election in the East African country, which saw Deputy Prime Minister Uhuru Kenyatta win 50.07 percent of the vote, narrowly avoiding a runoff ballot.
Both Kenyatta and his running mate, William Ruto, have been indicted by the ICC for crimes against humanity -- their charges remain in place.
The indicted men are suspected of inciting and funding violence after the 2007 presidential election, which saw incumbent Mwai Kibaki secure a second term. When the ballot results were announced, supporters of Kibaki's opponent, Raila Odinga, said they suspected foul play. More than 1,200 people lost their lives and hundreds of thousands were displaced after protests and backlash erupted into clashes. Tribal loyalties played a huge role in fanning the flames of violence, and those divisions still factor heavily into Kenyan politics.
Since those bloody months, Kenya has taken pains to avoid a similar crisis. A new constitution was implemented in 2010 establishing a domestic electoral authority called the Independent Electoral and Boundaries Commission. Political leaders of all stripes called for peace as elections kicked off last week, and security forces were deployed to all corners of the country.
Odinga was once again a front-runner; he and Kenyatta ran neck-and-neck in polls this year as the election approached. Voting day was relatively peaceful, but now a new challenge presents itself.
Both Kenyatta and Ruto may be called away to undergo trial later this year. If they're convicted, Kenya could face international alienation or internal strife.
The dropped charges against Muthaura will have no effect on the winning candidates' own cases.
In a statement released via the Kenyan media outlet Capital FM, ICC Prosecutor Fatou Bensouda said she had carefully considered all evidence before deciding to drop charges against Muthaura.
Bensouda noted that various witnesses in the Muthaura case have died, refused to testify, or admitted to accepting bribes. She lamented "the disappointing fact that the Government of Kenya failed to provide my Office with important evidence, and failed to facilitate our access to critical witnesses who may have shed light on the Muthaura case."
Six suspects were originally summoned by the ICC in March of 2011: Kenyatta, Ruto, Muthaura, former police chief Mohammed Hussein Ali, government minister Henry Kosgey and media mogul Joshua arap Sang. Charges against Kosgey and Ali have since been dropped, making Muthaura the third to avoid trial.
Sang and Ruto are scheduled to begin trial on May 28, while Kenyatta's appearance at The Hague has been pushed back from April to July.
To date, the ICC trial has progressed slowly. It has been delayed by political concerns, allegations of bribery and witness protection issues.
The case is politically sensitive since Kenyatta belongs to the Kikuyu tribe, Kenya's most populous and influential ethnic group. His supporters see the trial as an example of foreign interference, even though Kenya's own parliament invited the ICC to try the suspects. During the presidential election, Kenyatta benefited from the belief that his election would constitute a challenge to Western leaders, most of whom tacitly favored an Odinga victory.
Odinga and his supporters may still challenge Kenyatta's victory ahead of the inauguration, which will take place in about two weeks.
Meanwhile, the ICC said it will keep working toward gaining justice for the hundreds of thousands of Kenyans who were displaced, injured, or bereaved following violence in 2007 and 2008.
"The real victims of the terrible violence in Kenya five years ago are the men, the women, and the children, who were killed, injured, raped, or forcibly displaced from their homes – and whose voices must not be forgotten," said Bensouda on Monday. "I will not forget them."
© Copyright IBTimes 2023. All rights reserved.
FOLLOW MORE IBT NEWS ON THE BELOW CHANNELS