Ig Nobel Prize 2017 Winners: Crocodiles And Gambling, Big Ears, Liquid Cats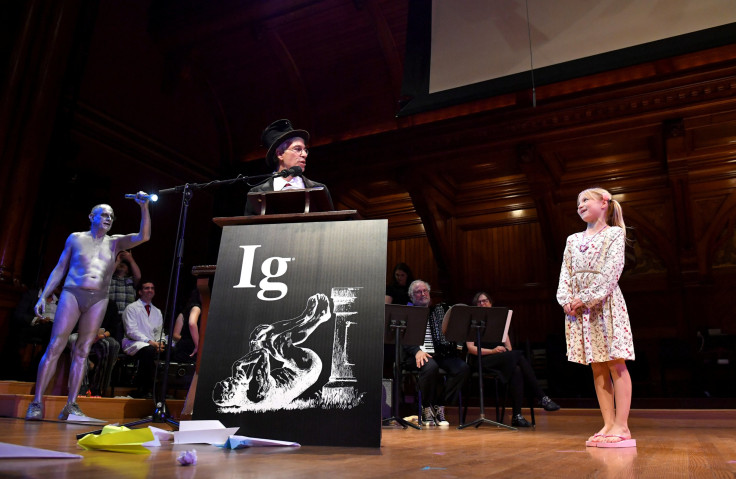 Is there a reason old men have big ears (do they all have big ears, in the first place?)? Can smiling at a crocodile affect your desire to gamble? Will playing the didgeridoo cure you of obstructive sleep apnea and snoring?
These are not purely rhetorical questions, but actual scientific research papers that were among the winners of the 2017 Ig Nobel Prize. The annual awards for improbable research, organized by the science humor magazine "The Annals of Improbable Research," were given out Thursday evening at the Sanders Theater at Harvard University for "research that makes people laugh and then think."
The tongue-in-cheek ceremony, with the theme of uncertainty, began with throwing paper airplanes by the audience, but was preceded by an orchestra made up entirely of typewriters — eight in all — performed by the Boston Typewriter Orchestra. And soon after, the prize winners — from five continents — were brought on to stage, introduced and handed their prizes by actual Nobel Prize laureates.
The awards, which don't have fixed categories, had 10 winners this year. Among the categories that overlapped with the Nobel Prize were physics, medicine, economics and peace.
The winner for physics was Marc Antoine-Fardin who used fluid dynamics to answer a question he saw on the internet — are cats liquid? He took up the challenge the internet threw at him and in a 2014 paper titled "On the Rheology of Cats," he asked if a cat could be both solid and liquid. The peace prize was handed out to Milo Puhan, Alex Suarez, Christian Lo Cascio, Alfred Zahn, Markus Heitz, and Otto Braendli who showed that playing the didgeridoo five times a week for four months could cure people of sleep apnea and rid them of snoring.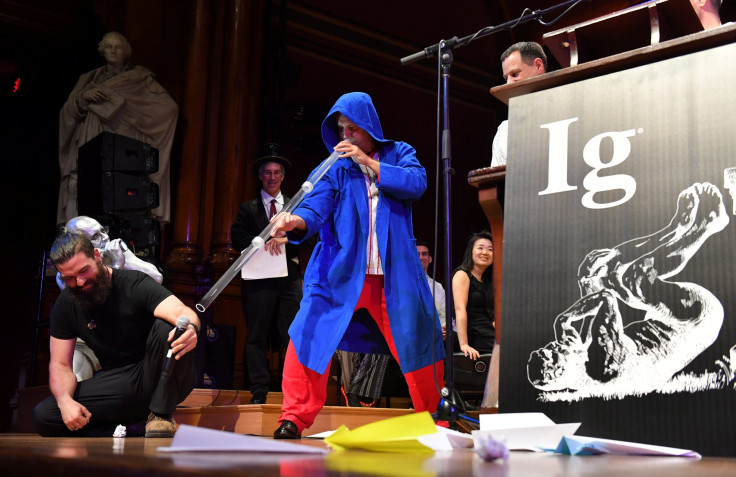 Matthew Rockloff and Nancy Greer were awarded the prize for economics "for their experiments to see how contact with a live crocodile affects a person's willingness to gamble." They found "reptile-induced arousal" could make people bet more on electronic gambling machines. A study by Jean-Pierre Royet, David Meunier, Nicolas Torquet, Anne-Marie Mouly and Tao Jiang that measured how much some people are disgusted by cheese, using brain-scanning technology, was awarded the prize for medicine.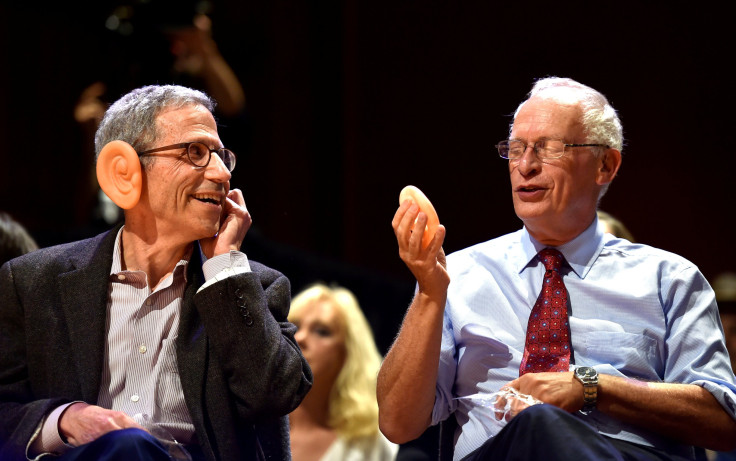 In other research from the field of biology were two more winners. The prize for anatomy was awarded to James Heathcote, who attempted to answer the very profound question of why old men have big ears. And the prize for biology was handed to Kazunori Yoshizawa, Rodrigo Ferreira, Yoshitaka Kamimura, and Charles Lienhard who discovered a cave insect species in which the females have penises and males have vaginas.
Other categories for the awards this year included fluid dynamics, cognition, nutrition and obstetrics. Links to all the research papers that were awarded the Ig Nobel Prize on Thursday are available on the website of the Annals of Improbable Research. The entire irreverent and funny ceremony was webcast live and can be seen below.
© Copyright IBTimes 2023. All rights reserved.