Illegal Wildlife Imports Threaten U.S. Public Health: CDC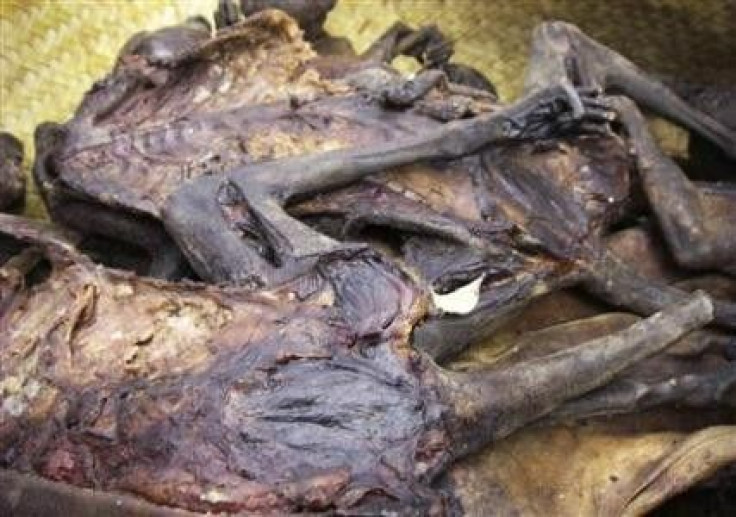 A collaborative study led by the U.S. Centers for Disease Control and Prevention (CDC) has identified proof of retroviruses and herpes viruses in illegal wildlife imports at several international airports in the U.S.
The pilot project was initiated to test methods to investigate potential public health risks by way of illegal wildlife imports that find their way into the United States. The study was set up to track diseases associated with illegal wildlife trade.
Preliminary results have demonstrated human health risks from illegal wildlife trade at major international travel hubs. The study, published on Tuesday in the journal PLoS One, identified wildlife products, mostly dead animals including bushmeat and primates like monkeys, which were, in fact, destined for human consumption before being seized by customs agents.
While the U.S. is said to be one of the largest consumers of imported wildlife products and wildlife, the pilot study is the first to establish port surveillance methodology to test for diseases associated with wildlife products, especially the existence of zoonotic viruses.
The study is based on the understanding that with better surveillance of illegal wildlife product shipments entering ports around the country, authorities will have a better chance of preventing emergence of new diseases.
It is not yet clear as to how harmful these zoonotic viruses really are but the study confirmed that wildlife and wildlife trade was yet another dangerous path for introducing a new virus into the human population.
The pilot project was a collaborated effort by scientists from the American Museum of Natural History, Columbia University, EcoHealth Alliance, the USGS National Wildlife Health Center and the Wildlife Conservation Society.
Although the findings to date are from a small pilot study, they remind us of the potential public health risk posed by illegal importation of wildlife products, a risk we hope to better characterize through expanded surveillance at ports of entry around the country, said Dr. Kristine Smith, lead author and Associate Director for Health and Policy at EcoHealth Alliance.
The increase in international travel and trade brings with it an increased risk of unmonitored pathogens via the illegal wildlife trade, said Dr. Denise McAloose, chief pathologist for the Global Health Program of the Wildlife Conservation Society (WCS).
In addition to public health risks involved in trading of live and non-live wildlife species, there is a potential risk of introducing new disease variants to native wildlife and agricultural species.
The study explained that the proliferation of non-native wildlife causes damage to U.S. ecosystems, as well as hindering the protection of threatened and endangered species identified by the International Union for Conservation of Nature.
These important research results highlight the value of using new DNA bar-coding identification technologies to accurately monitor the wildlife trade, important for both disease surveillance and the conservation of endangered species, said Dr. George Amato from the Sackler Institute of Comparative Genomics at American Museum of Natural History.
The researchers looked at 44 animals - nine primates and 35 rats. They then used genetic techniques to essentially screen for viruses in the sampled meat and found simian foamy virus, cytomegaloviruses and lymphocryptoviruses, all of which pose a threat to human beings.
The most common countries of origin for animal shipment fractions were the People's Republic of China (717 shipment fractions); Guyana (635), United Kingdom (359), Vietnam (314) and Indonesia (305). These values must be interpreted cautiously, however, because many animals are imported and then reexported; thus, their true origin may become obscured, the authors wrote.
The study used data on mammals imported during 2000 and 2005 and assessed their potential to host 27 selected risk zoonoses and created a risk assessment that could inform policy making for wildlife importation and zoonotic disease surveillance.
The study abstract states: A total of 246,772 mammals in 190 genera (68 families) were imported. The most widespread agents of risk zoonoses were rabies virus (in 78 genera of mammals), Bacillus anthracis (57), Mycobacterium tuberculosis complex (48), Echinococcus spp. (41), and Leptospira spp. (35). These findings demonstrate the myriad opportunities for zoonotic pathogens to be imported and suggest that, to ensure public safety, immediate proactive changes are needed at multiple levels.
A previous study by EcoHealth Alliance showed that over a six-year period (2000 - 2006), approximately 1.5 billion live wild animals were legally imported into the U.S. - with 90 percent slated for the pet trade.
Programs like the Centers for Disease Control and Prevention's Healthy Pets, Healthy People and EcoHealth Alliance's PetWatch encourage responsible exotic pet choices and ownership. U.S. Fish and Wildlife records show that more than 55 million pounds of wildlife products enter the country each year, with New York City the most common port of entry followed by Miami and Los Angeles.
© Copyright IBTimes 2022. All rights reserved.
FOLLOW MORE IBT NEWS ON THE BELOW CHANNELS