Illinois Passes Bill That Makes It Illegal To Record The Police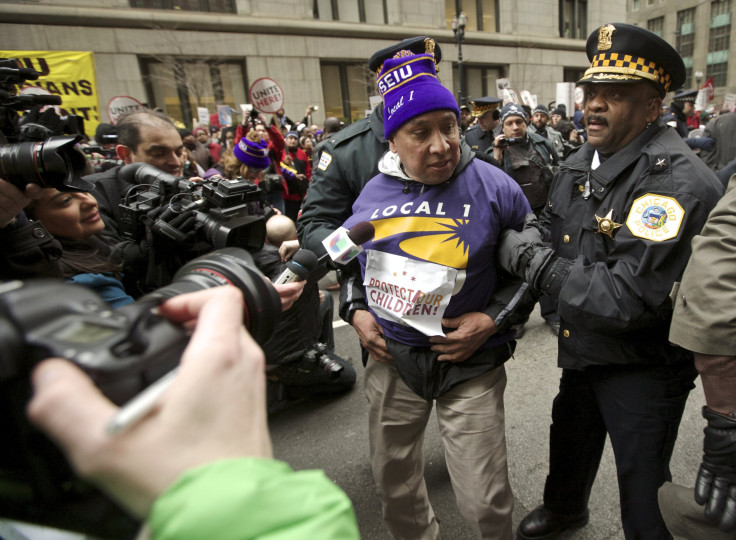 A new bill passed last week in Illinois would make it a felony to secretly tape any "private conversations," with steeper punishments for those surreptitiously recording the police. Critics of the proposed law claim it would scare citizens from recording interactions with law enforcement, following a number of high-profile police killings caught on camera.
The bill was passed by both the State House and Senate, and sent to Illinois Governor Pat Quinn on Dec. 4. It would criminalize secretly recording "private conversations" between two or more people, where at least one had a "reasonable expectation" of privacy. However, the proposed law would likely not make it illegal to record police interactions in public. Recordings like those depicting the death of Eric Garner would therefore not be affected. The new bill attempts to protect people from surreptitious and improper recording of their conversations without infringing on free-speech rights, its sponsors claim.
"The most important thing the bill does is to restore Illinois to a standard that requires everyone in a private conversation to consent to a recording," said Democratic Rep. Elaine Nekritz, one of the bill's sponsors, according to an AP report. "We satisfy the Supreme Court requirement by limiting that to conversations where there is a reasonable expectation of privacy."
The bill is written around a U.S. Supreme Court ruling
in March
that struck down an eavesdropping law that would made it a felony to record audio of police officers working in public. The court had ruled that the state could not make it illegal to record conversations where there was no "reasonable expectation of privacy," and said it would "criminalize a wide range of innocent conduct" and violate free-speech rights.
However, the new law does not make a clear distinction between what situations qualify as a private encounter, the Illinois Policy Institute says. The private think tank says that it is "aimed at promoting personal freedom and prosperity," and that the unclear nature of the bill's wording make it open to wide interpretation.
"The Illinois Supreme Court said that police don't have an expectation of privacy in 'public' encounters with citizens, but it did not explain what counts as a 'public' encounter," the institute said in a blog post.
The bill is designed to scare citizens from recording police interactions, the institute claims, thanks to steeper punishments for recording the private conversations of on-duty police and court officers than private citizens.
It makes "unlawfully recording a conversation with police – or an attorney general, assistant attorney general, state's attorney, assistant state's attorney or judge – a class 3 felony, carrying a sentence of two to four years in prison." Meanwhile, the proposed law would make recording private citizens a class 4 felony, "which carries a lower sentencing range of one to three years in prison."
The bill must be signed by the governor before it becomes law. The institute claims that the proposed law could also be used as an argument against police body cameras, since it could be argued that recordings outside of "public" places would be illegal, since people in private homes and other areas have not consented to the recording.
Concerns over police recording are largely misplaced, according to Ed Yohnka, director of communcations and public policy for the American Civil Liberties Union (ACLU) of Illinois. While in-home recording may be argued as "private," it is extremely unlikely that any person would ever be prosecuted for recording police action in their own home, he said.
Instead, the group has taken issue with the bill over the rights it extends to police officers' ability to eavesdrop on suspects of crimes like murder, kidnapping and some sexual assaults. The ACLU of Illinois testified against the bill over a provision allowing police to secretly record conversations for 24 hours without any judicial oversight, as long as they had permission from the state's attorney. Yohnka claims the state's attorney is much more likely to give cops preferential treatment than a judge, but said overall that the new bill is much more respective of an individual's right to film police action.
"In a broad way, what this law recognizes is a notion that when a public official is doing their public job in a public place, they don't have an expectation of privacy," Yohnka said. Compared to the overturned eavesdropping law, the new one is a "better reflection of what the world looks like today when everybody is literally a citizen journalist and has the ability to record information and capture video and images in public."
One example of when police might have a reasonable expectation of privacy might be an officer meeting with a confidential informant, he said. If the two left a bar and went into an alley to avoid being overheard during a private conversation, they would have a reasonable expectation of privacy.
"If someone secretly snuck their hand around the corner to record their conversation, that would clearly be a violation of this bill," Yohnka said.
This story has been updated to include comments from the ACLU of Illinois.
© Copyright IBTimes 2023. All rights reserved.
FOLLOW MORE IBT NEWS ON THE BELOW CHANNELS