Racial Profiling 2014: Holder Announces New Guidelines Following Ferguson, NYC Protests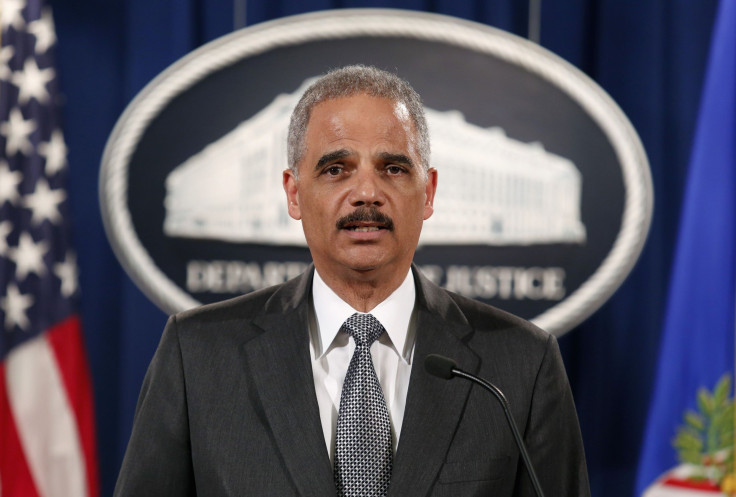 U.S. Attorney General Eric Holder will announce new guidelines on racial profiling for federal law enforcement on Monday. The revised guidelines will expand the definition of racial profiling and will apply to state and local officials involved in federal law enforcement tasks, according to CBS.
The Justice Department issued its first restrictions on racial profiling in 2003 under then-Attorney General John Ashcroft. Those guidelines banned profiling on the basis of race or ethnicity but allowed for exceptions for border control and national security, CBS reported. Holder has been revising those guidelines since 2009 but pushed to have the the policy finished before his departure from office.
"During the last two weeks in particular, it has been the first item on the agenda each day in his morning senior staff meetings," one DOJ official told ABC. "It will be one of the signature accomplishments of his tenure."
The announcement comes as nationwide protests continue over the use of deadly force by police officers against unarmed black men in incidents in Ferguson, Missouri, and New York. The decision to not indict both officers by local grand juries has sparked further protests in recent days.
Holder linked Monday's announcement to these incidents in a statement provided by his office in advance of the release. "Particularly in light of certain recent incidents we've seen at the local level -- and the widespread concerns about trust in the criminal justice process which so many have raised throughout the nation -- it's imperative that we take every possible action to institute strong and sound policing practices," he said.
While the new guidelines are expected to expand the characteristics it protects -- including bans of profiling on the basis of gender, national origin and sexual orientation -- some civil rights groups remain unsatisfied with the reform.
"It's baffling that even as the government recognizes that bias-based policing is patently unacceptable, it gives a green light for the FBI, TSA and CBP [Customs and Border Protection] to profile racial, religious and other minorities at or in the vicinity of the border and in certain national security contexts, and does not apply the Guidance to most state and local law enforcement," ACLU Washington legislative office director Laura W. Murphy said in a statement.
The DOJ is expected to announce the full guidance on Monday afternoon.
© Copyright IBTimes 2023. All rights reserved.