Brown, Garner Grand Jury Decisions: Survey Reveals Sharp Racial Divisions In Reactions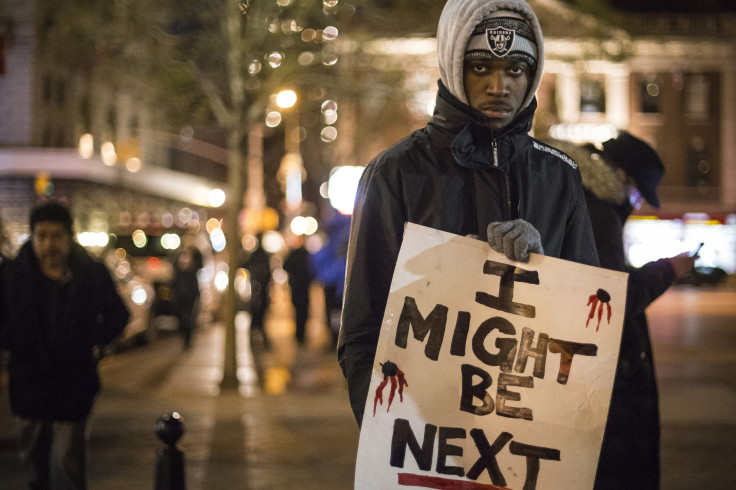 Americans are divided over the recent grand jury decisions in the deaths of two black men involving white police officers, a new survey finds. The survey, jointly conducted by the Pew Research Center and USA Today, also shows that more than half of all African Americans expect relations between police and residents in the U.S. to worsen in 2015.
Conducted between Dec. 3 and Dec. 7 among 1,507 adults, the poll reveals that 50 percent of the respondents supported a grand jury decision not to charge former Ferguson, Missouri police officer Darren Wilson in the death of Michael Brown, while 37 percent viewed that as a wrong decision, and the rest remained uncertain. By contrast, 57 percent said that a grand jury in New York City made the wrong decision by not charging Officer Daniel Pantaleo in the death of Eric Garner, while only 22 percent considered that to be a correct verdict.
"Blacks and whites have starkly different views of the decisions in the Michael Brown and Eric Garner cases, and blacks are far more likely than whites to say that race was a major factor in both rulings," the researchers said in a statement, released Monday.
Over 60 percent of blacks said that race was a major factor in both cases. However, only 16 percent of whites said that race played a major role in the decision not to charge Wilson, while 18 percent said that race was a key factor in the Garner decision.
In addition, the survey also revealed that opinions among blacks and whites about future relations between local police forces and minorities around the U.S. differed significantly.
"About half of blacks (52%) expect relations between local police and minorities to get worse over the next year, while just 16% see relations improving; 31% expect them to stay about the same. Among whites, 34% say relations will worsen, while 43% expect them to stay about the same," according to the survey.
Over the past few weeks, the U.S. has witnessed massive protests following grand jury decisions in the Garner and Brown cases. Garner, a 43-year-old father of six, was killed by white police officer Pantaleo on July 19 in Staten Island, New York City. Brown, 18, was shot by Wilson in Ferguson on Aug. 9.
© Copyright IBTimes 2022. All rights reserved.
FOLLOW MORE IBT NEWS ON THE BELOW CHANNELS