Iman Shumpert Injury Video: ACL Tear Will Keep Shumpert out Six to Eight Months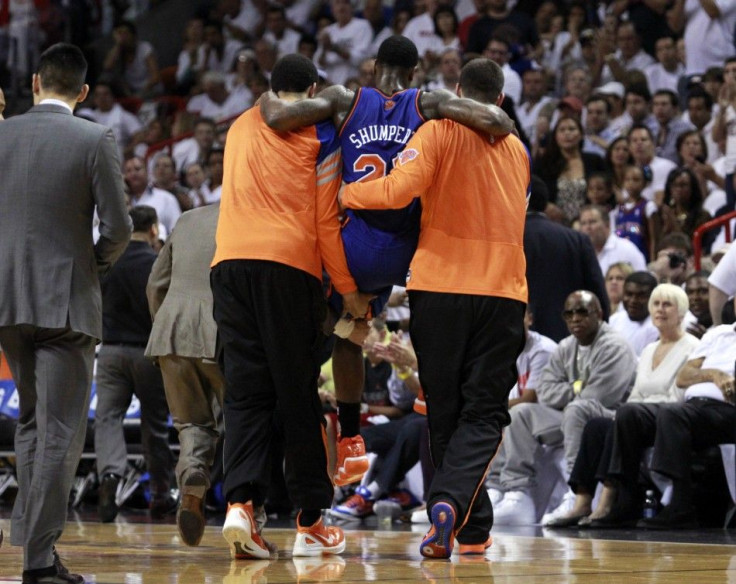 Though his injury was overshadowed by Derrick Rose's later in the afternoon, Knicks rookie guard Iman Shumpert also saw his season come to an end Saturday when he attempted to cut and tore the ACL in his left knee.
'It's tough, man, Carmelo Anthony said. It's an unfortunate situation for us to lose a guy like Shump the way he'd been playing and what he brings to our team. We're definitely going to miss that. Most importantly now, guys in place of him have to step up. My prayers go out to him.'
Shumpert appeared to lose the ball for a moment as he dribbled behind his back. When he attempted to recover from that he planted his left leg awkwardly before collapsing in a heap. He had to be carried off the court by some of his Knicks teammates.
This adds to the injury woes for the Knicks, who were facing long odds as it was in their matchup with the second seeded Miami Heat. Jeremy Lin is still out recovering from his knee surgery and Tyson Chandler is still battling the effects of the flu.
The Knicks may also be without the services of a fully healthy Baron Davis as well after his back began to act up during the game one loss.
Shumpert finished his first season with 9.5 points, 3.2 rebounds and 2.8 assists per game in 28.9 minutes. He showed that he belonged in the league very early on and became New York's third guard for much of the season.
The recovery time from ACL surgery can be extremely long, and a statement from the Knicks estimates that he will be out for six to eight months which could cause him to miss some of next season as well.
© Copyright IBTimes 2023. All rights reserved.