IMF Forecasts UK Economic Growth In Major U-turn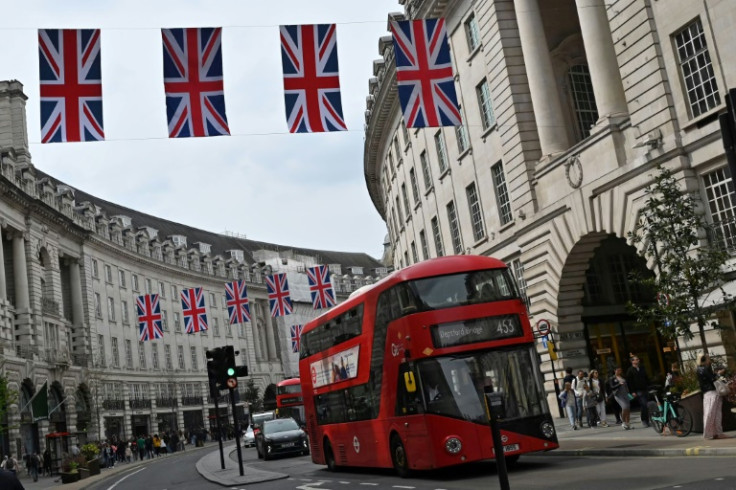 The IMF on Tuesday delivered a major U-turn on its forecast for the UK economy, saying it expected growth this year just one month after predicting a contraction.
Britain's economy is expected to expand 0.4 percent in 2023, the International Monetary Fund said in its latest outlook document which partly cited weaker energy prices.
The IMF ripped up its previous forecast in April for a 0.3-percent contraction.
Addressing a London press conference, IMF managing director Kristalina Georgieva defended the U-turn.
She said it had been sparked by falling energy prices, easing concerns over Brexit and improving financial stability following recent UK political turmoil and US banking-sector woes.
She praised Britain for taking "decisive and responsible steps" in recent months, including overseeing a rescue deal by British bank HSBC for the UK arm of collapsed US lender SVB.
"We have gone through a very turbulent time over the last few years," the IMF head told reporters, addressed also by UK finance minister Jeremy Hunt.
"We have experienced shock upon shock upon shock, and that has created exceptional uncertainty."
Georgieva said the IMF deserved credit "for being agile in how we look at changing conditions... so we can give as clear a picture as we can, at a time when it is the foggiest we have seen in many decades".
Prime Minister Rishi Sunak welcomed the "big upgrade", adding that forecasting of UK growth "has been systematically underestimated for many years".
Georgieva meanwhile warned that the "global economy remains highly uncertain".
She also expressed hope that US politicians would soon conclude a deal to raise the nation's debt ceiling and avoid a default.
"I look forward to a solution being found... Hopefully we won't have to wait that long."
Separately Tuesday, the Bank of England -- which already predicted the UK would avoid recession this year following its own U-turn -- admitted it had made errors over forecasting British inflation.
"We recognise our forecasts on inflation have been too low," BoE chief economist Huw Pill told a cross-party panel of UK lawmakers.
"We are trying to understand why we have made those errors."
UK annual inflation remains stubbornly above 10 percent, though could come in lower when official data is updated Wednesday.
The IMF noted there had still been a "significant" UK slowdown from 2022, when the economy grew 4.1 percent despite sky-high inflation fuelled by soaring energy bills in the wake of the Ukraine war.
"Buoyed by resilient demand in the context of declining energy prices, the UK economy is expected to avoid a recession and maintain positive growth in 2023," read the IMF statement.
It cautioned, however, that this year's growth outlook remains "subdued".
The IMF said the 2023 upgrade reflected also improved confidence in reduced post-Brexit uncertainty as well as lower energy costs.
The organisation noted that the Windsor framework would "favourably impact" the outlook.
Conservative party leader Sunak sealed the Windsor pact this year to overhaul Northern Irish trade rules and to reset post-Brexit relations between London and the European Union.
Hunt told the press conference that the "big upgrade" from the IMF credits the government's "action to restore stability and tame inflation".
"If we stick to the plan, the IMF confirm our long-term growth prospects are stronger than in Germany, France and Italy... but the job is not done yet."
Tuesday's update could also boost Sunak, whose Conservatives lag the main opposition Labour party ahead of a general election widely expected next year.
© Copyright AFP 2023. All rights reserved.