Immigration Reform 2015: Illegal Immigrants Serving In US Military Becomes Next Battle In Congress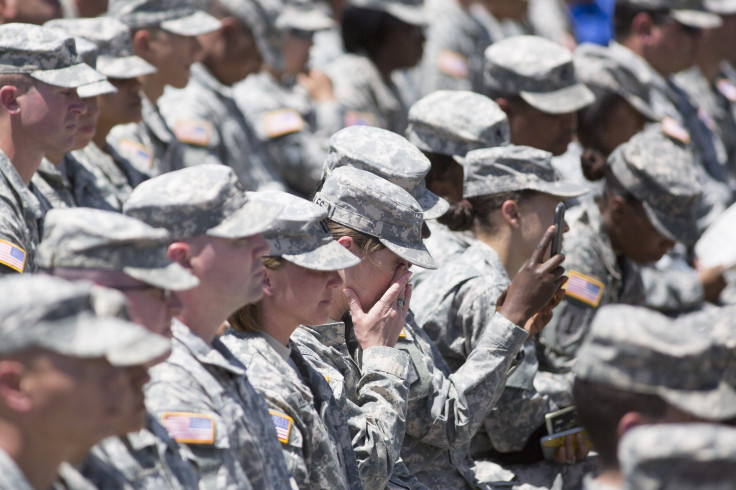 Anti-illegal immigration hard-liners in Congress are again at odds with Republican colleagues who represent districts with large Hispanic populations. But this time it isn't a potential shutdown of the federal government that's at stake, it's whether the U.S. armed forces get funding.
Next week, the Republican-controlled House of Representatives is expected to battle over provisions in the annual Department of Defense authorization bill that could grant undocumented immigrants with deferred deportations the right to serve in the U.S. military. The emerging fight highlights the GOP's electoral challenges in opposing President Barack Obama's Deferred Action for Childhood Arrivals (DACA) program, which could grant millions of qualified undocumented immigrants who arrived in the U.S. as children a reprieve from deportation actions and extend work permits to them.
DACA, first announced in 2012 and expanded in 2014, has won some bipartisan support. However, a federal appeals court is considering a legal challenge to the action, led by lawmakers from conservative-leaning states.
Congress' defense authorization bill is an unlikely battleground in the immigration fight because the House Armed Services Committee has already adopted two Democratic amendments that could open the military to young undocumented immigrants. One provision asks the defense secretary to consider DACA recipients for service in the armed forces, while the other directs the Pentagon to study DACA recipients' impact on recruitment and military readiness.
U.S. Rep. Ruben Gallego, D-Ariz., proposed the first defense authorization bill amendment, which attracted support from six Republicans, including vulnerable Reps. Mike Coffman of Colorado and Martha McSally of Arizona, whose districts have many Hispanic residents. Seven Republicans supported the second amendment to the bill, proposed by Rep. Marc Veasey, D-Texas. Both provisions narrowly passed.
Coffman, a Marine Corps combat veteran, has argued that "dreamers" -- undocumented immigrants granted lawful status in the U.S. under the so-called Dream Act, because they grew up in the U.S. and are working in the U.S. -- should be able to enlist in the armed forces. "I will fight to make sure our effort to encourage military service among Dreamers remains part of the [National Defense Authorization Act]," Coffman told the Hill. "These kids grew up in this country, went to school here and often know of no other country. I want to give them the same opportunity I had to serve this country."
Rep. Steve King, R-Iowa, an anti-immigration hard-liner, said Republicans could wage a battle when the bill goes to the House floor next week. "It is the wrong policy on the wrong bill at the worst time," King said in a statement, as reported by the Hill. "This will bring about a major fight among those of us who have given our oath to support and defend the Constitution and mean it, and those who simply gave their oath."
© Copyright IBTimes 2023. All rights reserved.