Immigration Reform 2015: Obama Immigrant Policy Raises $422M From DACA Application Fees, Remains Controversial Among GOP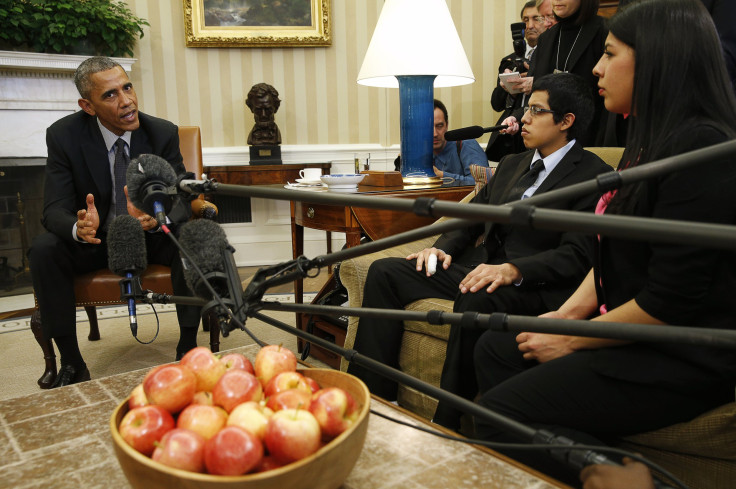 Conservative Republicans who opposed President Barack Obama's immigration policies complained that his execution actions allowing immigrants to obtain legal work permits would be a burden to American taxpayers, but the opposite appears to be true three years after the first wave of applications were filed for the Deferred Action for Childhood Arrivals program. The policy that suspends deportation to hundreds of thousands of undocumented immigrants has generated $422.4 million in application fees, according to an Orange County Register report.
Since the program took effect, 664,607 immigrants who arrived in the U.S. before age 16 have been accepted into the program. Recipients are required to renew their status every two years. To date, 243,872 people have renewed and paid the application fees.
Still, Republicans are not convinced that the money generated by the program is enough for the long haul. "It's probably only generating enough money to keep itself sustained," Bob Kowell, president of the Murrieta and Temecula Republican Assembly, a local political group advocating for conservative causes, told the Register. "Those fees don't really go to anything but paying people's salaries who work for the government."
Proponents of the program say the immigration policy has allowed tens of thousands of immigrants to continue their educations and has been a boost to the American economy. However, some immigrants say the $456 application fee has been a barrier to access.
"It took me about five months to save up," said Crissel Rodriguez, 27, who initially didn't apply because of the cost in 2012. She has since graduated from Chapman University in California with a master's degree in international studies, the Register reported.
A study released this month by the Center for American Progress found that the immigrant policy has benefited the U.S. economy by allowing immigrants to work and pay state and federal taxes. It would have an even larger positive impact if an expansion of Obama's executive actions for millions of undocumented immigrants and parents of U.S. citizens, which Republican-led states sued to stop in January, is no longer held up in the courts, the center said.
For example, if all eligible immigrants in California received temporary work permits, it could result in $75.8 billion in gross domestic product. All state residents would see an increase of $39.3 billion in the total income, according to the report.
© Copyright IBTimes 2023. All rights reserved.