Immigration Reform Bill 2013: 4 Amendments To Expect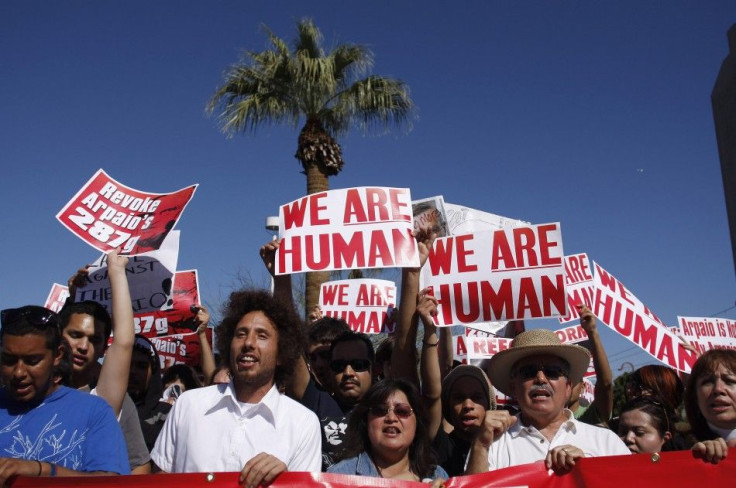 Dozens of Democratic and Republican senators who were shut out of the initial crafting of the immigration reform bill, handled by the bipartisan Gang of Eight, will now have their say by way of amendments.
All amendments to the 2013 bill are expected to be filed by 5 p.m. Tuesday, as the legislation heads for markup in the Senate Judiciary Committee on Thursday.
Democrats have a 10-8 majority on that committee and hold the majority in the Senate, but they are pushing for a 70-vote threshold in order to block a possible filibuster and send House Republicans the message that there is a strong bipartisan consensus behind the bill.
No amendments have been introduced thus far, but senators from various corners have voiced concerns and suggested changes that should be made to the bill. Here are a few of the proposals you can expect:
Green Card Push For Same-Sex Partners
In February, Sens. Patrick Leahy, D-Vt., and Susan Collins, R-Maine, introduced the Uniting American Families Act, or UAFA, a bill that seeks to let Americans sponsor their same-sex partners to apply for green cards.
"Preserving family unity is central to our immigration policy," Leahy said at the time. "President [Barack] Obama understands that, which is why I was so pleased to see that he included UAFA as a core tenet of the immigration principles he outlined last month."
Gay rights advocates have told the media that Leahy plans to offer an amendment to the 2013 immigration reform bill so that gay couples can sponsor their foreign-born partners, a right currently afforded only to heterosexual couples. While the measure is likely to pass in committee, lawmakers expect it to fail once it hits the Senate floor. Some are also worried that including this push for gay rights could set up the whole reform bill for failure in the upper house. And even if Leahy's measure squeaks by in the Senate, chances are it will be dead on arrival in the House of Representatives, perhaps taking the immigration bill down with it, because Republicans are highly unlikely to support a pro-gay measure.
"It will virtually guarantee that it won't pass," Sen. Marco Rubio, R-Fla., a member of the Gang of Eight, recently told Politico. "This issue is a difficult enough issue as it is. I respect everyone's views on it. But ultimately, if that issue is injected into this bill, the bill will fail and the coalition that helped put it together will fall apart."
Protection For Children In Families Split By Deportation
Sen. Al Franken, D-Minn., promised in March that he would work on legislation that protects children whose families are torn apart by deportation. Two months ago, the senator reacted to stories he heard about the effects enforcement raids have had on children left behind in Minnesota: "It is unthinkable to imagine a child being abandoned without any communication with their parents or guardians. After hearing heartbreaking stories about Minnesotans ... I plan to continue to work on legislation to make sure children are protected and taken care of if one of their parents is deported."
It is not the first time Franken worked on bills to secure children's safety. In 2010, he introduced the Humane Enforcement and Legal Protections, or HELP, for Separated Children Act.
Challenge To Mandatory E-Verify
The E-verify system, which allows employers to electronically check work eligibility for new hires, will be mandatory for all businesses within five years under the proposed reform bill. Over the years, the design and implementation of the system have been highly criticized because it has flagged authorized workers and often misses fraud. This is another issue that could be tackled by Franken, who last month said, "The system isn't ready for prime time." He argued that, while big businesses have human resource departments to tackle those potential errors, small businesses are at a disadvantage because one person may at times perform the task of several.
Shorter/Longer Path To Citizenship For 'Dreamers'
As proposed in the current bill, it could take qualified undocumented immigrants 13 years to achieve citizenship. There is, however, a special path for "Dreamers," those brought to America illegally as children, that does more than the two-year reprieve provided by Obama's deferred-action program. Under the 2013 immigration reform bill, Dreamers will enter a provisional legal status and after five years be eligible for a green card. Politico recently reported that Sen. Richard Blumenthal, D-Conn., may end up offering a shorter path to citizenship than the 13 years proposed for illegal immigrants and is also reportedly looking at ways to expand the Dream Act provisions.
As for other possible amendments, Republicans have spoken out about national security in light of the recent Boston bombings; fierce critics like Sen. Jeff Sessions, R-Ala., seek to toughen border security considerably.
© Copyright IBTimes 2023. All rights reserved.