Immigration Reform And Marco Rubio 2016: Hispanics At Odds With Presidential Candidate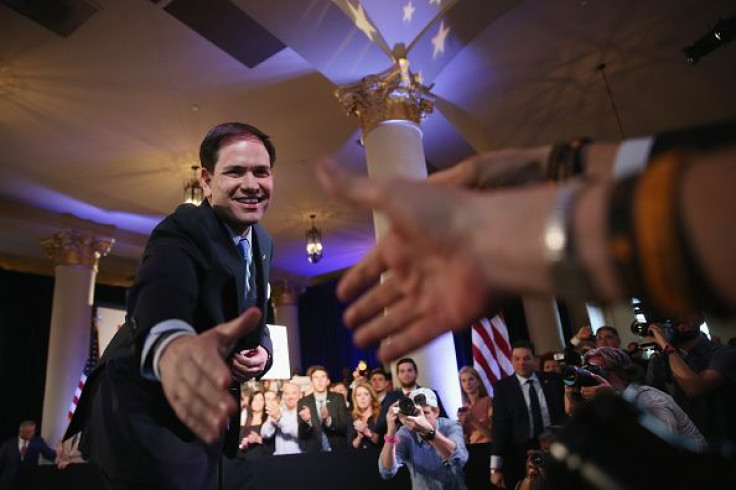 If Marco Rubio becomes the first Latino president, it won't be because of the Latino vote. The Republican senator from Florida alienated many Latinos when he abandoned immigration reform in 2013, and the ones still in his corner don't make up enough of the electorate to make a difference. Coupled with his stances against President Barack Obama's health care law and the Obama administration's executive actions on immigration -- two issues both highly popular with Latinos -- Rubio has the same problem as his Republican rivals: Winning the Latino vote won't be easy.
Rubio's challenges were on display Monday, when he formally announced he was running for president. While giving his speech from the Freedom Tower in Miami, a group composed of young illegal immigrants known as Dreamers and other Latino advocates protested outside by shouting, "What about my family? Rubio's dream is our nightmare!" Rubio also faced hecklers angry over his immigration policies on his recent book tour.
"What we have seen is that he's actually turned his back on the Latino community," said Cristina Jimenez, managing director of United We Dream, one of the groups that protested Monday. "It's very clear who's standing with our community and who's not."
Latino voter turnout for then-candidate Barack Obama in 2008 and during his re-election in 2012 propelled him to the White House -- he won roughly 70 percent of the Hispanic vote in both years. Although he didn't get a majority of the Latino vote in 2004, President George W. Bush's re-election was due in part to garnering 44 percent of the Latino vote. By contrast, 2012 GOP nominee Mitt Romney got only 27 percent of the Latino vote.
"There's too much animosity from the Republican Party toward the Latinos, and in order for that to change you can't just run a Latino last name," said Norma Ruiz Guerrero, founder of Memes Media, a New York political advertising firm that helps candidates craft their message to Latino voters. "His last name should be Smith, really," she said of Rubio. "He's not anything like the majority of Latinos in this country."
Rubio has a negative net favorability rating among Latinos who voted in the 2014 midterm elections, according to a survey conducted by the polling firm Latino Decisions. Only 31 percent of Latino voters had a favorable view of the Florida senator, while 36 percent held an unfavorable opinion. About a third either had no opinion of Rubio or had never heard of him.
The main factors driving Rubio's unpopularity in the Latino community are his about-face on immigration reform and his opposition to Obama's executive actions on immigration. He was one of the so-called Gang of Eight senators who pushed for immigration reform that would have allowed a pathway to citizenship for illegal immigrants until the plan was killed by the House. Rubio has since said the big bill was a mistake and reform should be done in piecemeal, first through legislation to secure the border.
"That's his Achilles' heel," said Luis Alvarado, a Republican strategist with California consulting firm Revolvis. "That will continue to resound until Election Day with all Latinos, and they will make him pay for that."
About two-thirds to three-fourths of Latinos favor less restrictive immigration policies and pathways to citizenship, says John Garcia, a research professor at the Center for Political Studies at the University of Michigan. By siding with conservatives on immigration, Rubio is losing support among Latinos. If he were to win the Republican nomination and then adopt a more liberal stance on immigration, he runs the danger of alienating the GOP base. Rubio's problem is that there is no sweet spot on immigration where he can appeal to both groups.
"If there was a middle ground, some politicians would have found it by now," Garcia said. "In fact, [immigration has] gotten more polarized over time."
But not all Latinos favor giving legal status to undocumented immigrants. "Rubio is certain to do well with Cuban-American voters, however they represent less than 5 percent of all Latino voters. So he needs to be able to expand his appeal to other Latinos, most important, Mexican Americans," said Matt Barreto, a professor of political science and Chicano studies at the University of California, Los Angeles and the co-founder of Latino Decision, in an email. "His flip-flop on immigration reform is really going to hurt him among Latino voters."
Aside from immigration reform, Rubio is not in sync with Latinos on other issues of importance to the community. Rubio said that if he were elected president, he would push to repeal Obamacare, the health care law supported by 61 percent of Latino voters in 2012, according to Latino Decisions. The law boosted health insurance enrollment among Latinos by 4.1 million people, and their uninsured rate dropped by 12.3 percent, the group says.
Rubio is also against Obama's executive actions on immigration, which would protect some 5 million illegal immigrants from deportation. But nearly 90 percent of Latinos support the policy.
"It's kind of like what we call a gateway issue," said Democratic strategist Marc Campos, president of Houston consulting firm Campos Communications, about immigration. "It's one where Latinos won't even bother to talk to you if you're not even right on that issue."
FOR FREE to continue reading
✔️ Unlock the full content of International Business Times UK for free
offer available for a limited time only
✔️ Easily manage your Newsletters subscriptions and save your favourite articles
✔️ No payment method required
Already have an account?
Log in
© Copyright IBTimes 2023. All rights reserved.