India 2014 Elections: As in Western Europe, U.S., Illegal Immigration Major Campaign Issue In Northeastern India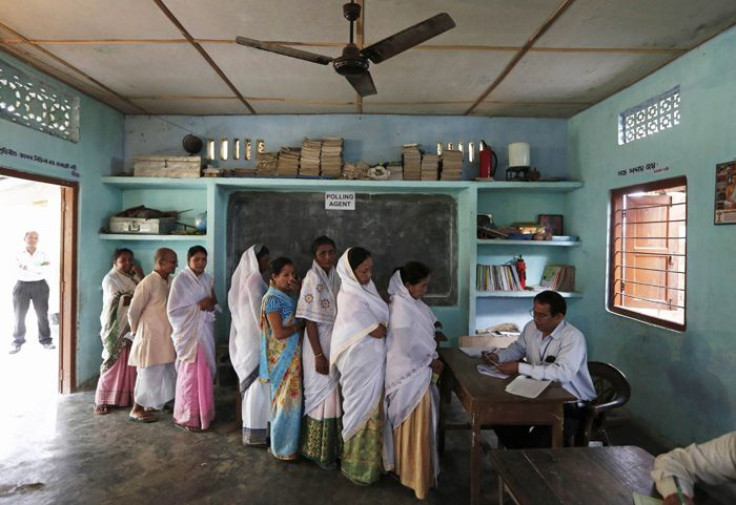 India's massive general election commenced Monday in the northeastern state of Assam, where a huge turnout partially reflects the local residents' concerns over rising illegal immigration from neighboring Bangladesh.
Indians are voting for members of the Lok Sabha, the lower house of parliament, in nine stages over the next six weeks, beginning with the eastern provinces of Assam and Tripura. According to the Election Commission of India (EC), about 6.4 million eligible voters, including about 3.1 million women, will vote in Assam at about 8,600 polling stations. The Calcutta Telegraph newspaper reported on Tuesday that in five of the 14 constituencies of Assam, turnout has averaged about 74.2 percent (versus 69.6 percent for the 2009 national elections). The Assam Tribune reported that polling in Assam has been generally free of any untoward incidents, with an unusually high number of youths queuing up to cast their ballots. "Polls have been peaceful and recorded an impressive turnout of voters. We expect the voting percentage to cross [the] 75 [percent level], as final reports are still being awaited," Vijayendra, the chief electoral officer in Assam, told The Tribune.
In the last election, the center-left Congress Party and its local alliance partner, the local Bodoland People's Front (BPF), trounced their opponents in Assam – grabbing eight of the 14 parliamentary seats, with the center-right Bharatiya Janata Party (BJP) winning just four seats. Assam has been dominated by Congress for decades, with a chief minister, Tarun Gogoi, who has won three consecutive elections. Gogoi's son, Gaurav, who is himself running as a parliamentary candidate for the constituency of Kaliabor, is optimistic that Congress can maintain its power in Assam, while dismissing the BJP and its leader, Narendra Modi. "There is no 'Modi magic,' but [rather] 'Tarun Gogoi' magic in Assam. Earlier, I had said we will win ten [parliamentary] seats, but now I am sure the Congress will get more than that," Gaurav told local reporters, the Tribune said.
Indeed, Nirmal Goswami, a professor of political science at Texas A&M University-Kingsville, said that polls suggest that, in stark contrast to much of the rest of India, Congress is expected to win again in Assam – but perhaps not by as large a margin as in previous elections. Given that one of the key election issues in Assam is illegal immigration from neighboring Bangladesh, the BJP and Modi may deliver a respectable showing in the state. In its recently released party manifesto, the BJP vowed that, if it gained power in New Delhi, it would take serious steps to stop the influx of illegal immigrants from Bangladesh and expel those who are already residing in Assam and other parts of northeastern India. Promising to give the issue its "top priority," BJP stated in the manifesto that it would seek to complete the construction of a border fence to block the entry of illegal immigrants and upgrade border security. Perhaps most controversially, Modi has said that he wants to only expel Muslim immigrants, but embrace Hindus coming across the borders from Bangladesh. (This statement, though it played well with conservative Hindus, is largely meaningless since the overwhelming majority of Bangladeshi immigrants practice Islam.)
Assam, which is located to the north and east of Bangladesh, has received millions of illegal immigrants over the past few decades, causing alarm among the local populace. One of the groups most fiercely opposed to illegal immigration are Assam's indigenous and tribal communities, including the Bodo people. The Assam Sanmilita Mahasangha (ASM) -- an umbrella organization representing the state's various indigenous population segments – has accused the central and state governments (run by Congress) of illegally providing Indian citizenship to millions of illegal immigrants in the state, including both Bangladeshis and Nepalis, as a means of increasing electoral support for Congress. In a statement, ASM warned that such measures marginalize their communities and threaten their very existence in their own homeland. "The Union [Indian central government] home and foreign ministries are hiding the true facts about the number of foreigners in Assam," the group said. In the past, ASM characterized the granting of citizenship to foreigners as a "conspiracy" by the Indian government to deny indigenous people of their land rights.
The state's regional party, Asom Gana Parishad (AGP), which is also running some candidates in the election, has made illegal immigration from Bangladesh its fundamental campaign issue, having been formed in 1986 for the express purpose of halting all illegal immigration into the state. Another group affiliated with AGP, The All-Assam Students' Union (AASU), has long demanded the expulsion of illegal Bangladeshi immigrants, frequently chanting the slogan "Bangladeshi, go back" in street marches. "We want speedy identification and deportation of illegal migrants," Samujjal Bhattacharya, adviser for the AASU, told Tehelka magazine of India. "The demography of Assam is under threat, indigenous communities are turned into [a] minority all because both the [federal] and the state [governments] have used them as vote banks and tried to legalize the illegal migrants. The fallout has been violence."
With an estimated population of some 31 million people in Assam, the number of illegal immigrants (and their descendants) is unknown. In 2005, the governor of Assam, Ajai Singh, sent a communique to the central government in which he claimed that up to 6,000 Bangladeshis enter the state every day. A report in Fair Observer estimated that Assam is home to some 5 million illegal immigrants, primarily from Bangladesh. Other sources speculate that actual number is closer to 10 million, which, if accurate, would mean, that more than one-third of the state's residents are illegal immigrants.
A senior BJP MP in the upper house of Indian parliament, Arun Jaitley, has warned that high levels of illegal immigration into Assam and northeastern India threatens the region's demographic, cultural and economic character. "The desire for enlarging [the] vote-bank has been encouraging illegal migration," he told a conference in Guwahati, the capital of Assam, last September, making a direct reference to alleged Congress Party practices. "I am not sure whether such a strategy will always be beneficial to the vested political group [Congress] which has been encouraging influx. Today, we are seeing assertions from the migrants to be part of the state's power structure."
As in Western Europe (where a various assortment of Africans, Middle Easterners and even South Asians have entered illegally or seek asylum) or in the United States (which has long batted illegal immigration from Mexico, the Caribbean and Latin America), anti-immigrant forces in Assam fear not only the loss of jobs to foreigners who are willing to work for lower wages, but also the very identity and character of their state.
Goswami said in an interview that he believes the issue of illegal immigration in Assam represents a "demographic" and "political" problem, rather than an exclusively economic one. "It's true that most illegal immigrants who come from Bangladesh work as low-wage laborers, but the campaign against illegal immigration has existed in Assam since the 1970s and it is largely based on questions of identity and statehood," he said.
Between 1971 (when Bangladesh became an independent state) and 1991, the Muslim population of Assam skyrocketed by 77 percent, apparently due to the continuing influx of Muslim Bangladeshi migrants. As a result, Muslims have become the majority community in 11 out of 27 districts in the state, Fair Observer reported, meaning they now wield significant political influence. Not surprisingly, Bengali Muslim citizens (or other Muslims who have the papers necessary to vote) in the state tend to support the Congress party. But this has come at a high cost to immigrants and even to Bengali Muslims who have lived in Assam for decades. Bengali Muslims (even those who are legally settled in Assam) are often blamed for high unemployment and even terrorism, with such enmity periodically erupting in communal riots, including a deadly clash in 2012 in the Kokrajhar district of lower Assam between ethnic Bodos and Bangladeshi Muslims.
Thus, anyone speaking the Bengali language, or wearing a beard, or carrying a Muslim surname, might be mistaken for an illegal immigrant from Bangladesh and subject to threats and violence. "The worst victims of this are the genuine [legally settled] Bengali-Muslims of Assam who have been here [long] before Partition [in 1947], let alone the creation of Bangladesh in 1971," Hafiz Ahmed, an activist told Tehelka. "The illegal influx from Bangladesh is a reason of worry for everyone in Assam, including the genuine [legally settled] Bengali-Muslim, but then to brand every Muslim a Bangladeshi is also criminal."
Indeed, since the 1960s, some Bengali Muslims in Assam have sought to assimilate by adopting Assamese names, speaking Assamese and sending their children to Assamese schools. But these measures largely failed to grant the Bengali Muslims widespread acceptance. "This did not change our fortunes," a theater personality named Baharul Islam told Tehelka. "Even if we speak proficient Assamese, we are [still] seen as illegal migrants. I come from Goalpara [district of Assam] and as I'm fortunate to be educated, I can afford a modern lifestyle. I am not called a 'Bangladeshi,' but if someone from my own family comes here wearing a lungi [common Bengali garment], he is immediately harassed."
Now, in 2014, the BJP and its allies in Assam hope to exploit their fear-mongering over illegal immigration into electoral votes. But Assam has long served as a Congress stronghold – party leaders like Gogoi have generally shrugged off the question of illegal immigration by insisting that it isn't a problem or that it has been placed "under control." Congress has also denied accusations by BJP and others that they provide residency papers to illegal immigrants in order to create an instant "vote bank" for Congress. Al-Jazeera reported that Congress can count on the support of the region's large number of rea plantation workers, unions and some of the lower and middle classes.
Sanjib Baruah, a professor of political studies at Bard College in upstate New York who has also written extensively about Assam, suggested that the BJP's performance in Assam may be hurt by the presence of a local party called All India United Democratic Front (AIUDF), which is led by a man named Badruddin Ajmal. "Since 2006 [AIUDF] has been a major rival of the Congress party in constituencies where Muslims of [Bangladeshi] descent have a significant presence," he said. "If one goes by the choice of AIUDF candidates, it would seem that defeating the BJP is a bigger priority for Mr. Ajmal this time around than defeating the Congress. In a number of key constituencies with a strong presence of Muslims of Bangladeshi descent, the AIUDF has fielded weak non-Muslim candidates. The Congress candidate is likely to sail through in those constituencies. The BJP will certainly do well in many areas. But looking at the nature of the contests in individual constituencies, it does seem that the Congress and its allies will win more seats in Assam than the BJP."
Aside from illegal immigration, ordinary Assamese, particularly youth, are also concerned about the state's poor economy and weak development. A young Assamese bank employee named Palash Ranjan Das told TwoCircles.net, an Indian news service, that the government needs to further develop programs to provide jobs for youth. "In my view we [should] come up with policies that give a serious push to the rural agrarian economy in the state towards self- sufficiency," Das said. "Also industrialization should be given a boost so that more skilled youth can be employed and in the process several problems will be solved this way."
But once again the problem of illegal immigration is also on Das' radar. "Realistic measures should be adopted to solve illegal immigrants' problem which is harming the state," he said. "It's not possible to bundle up people and throw them across the border. Stop playing politics with this and do something which can be beneficial for the state and country in the long run."
© Copyright IBTimes 2023. All rights reserved.