India COVID-19 Deaths Surge 89%, Records 2.2M Cases In 1 Week
KEY POINTS
India recorded 2.2 million new coronavirus cases in the week of April 18
Health experts say India's total COVID-19 death toll is likely undercounted
The U.S, has announced plans to send raw materials to India to boost vaccine production
India's COVID-19 deaths and infections hit new records last week after health officials on Sunday reported 2.2 million new cases, the highest number recorded by any country in any seven-day period since the coronavirus pandemic began.
India's health care system has been in a crisis after health officials recorded a 47% surge in new cases in the week of April 18 and an alarming 89% increase in cumulative deaths in the past seven days, according to The Times of India.
The disturbing surge of infections and deaths in what is India's second wave of COVID-19 is forcing hospitals to turn patients away due to a lack of bed spaces and oxygen supplies. Some have reportedly died in line while waiting to see doctors.
The Indian government is recording more than 300,000 new infections each day, which accounts for half of all new cases reported globally. However, experts say those numbers are undercounted, as many parts of India lack access to testing.
"The figures on Covid infections that the government is releasing are actually an underestimate," Dr. Manas Gumta, general secretary of the Association of Health Service Doctors in West Bengal, told the Observer, according to The Guardian.
"A huge suspected Covid-positive population is certainly staying away from the tests. I believe the actual number of people dying of Covid is two to three times higher than what the government is reporting. And the number of infections could be up to five times than what is being reported by the Indian authorities," Gumta added.
Bhramar Mukherjee, an epidemiologist at the University of Michigan who has been following India's COVID-19 crisis, said the country's hospital administration and government are likely overlooking a significant number of deaths.
"From all the modeling we've done, we believe the true number of deaths is two to five times what is being reported," he said.
The coronavirus surge has led the Biden administration to send raw materials to India to help boost vaccine production. The U.S. also plans to send materials needed to manufacture rapid diagnostic test kits, ventilators and protective equipment.
"The U.S. Development Finance Corporation is funding a substantial expansion of manufacturing capability for BioE, the vaccine manufacturer in India, enabling BioE to ramp up to produce at least 1 billion doses of Covid-19 vaccines by the end of 2022," National Security Council spokeswoman Emily Horne announced Sunday.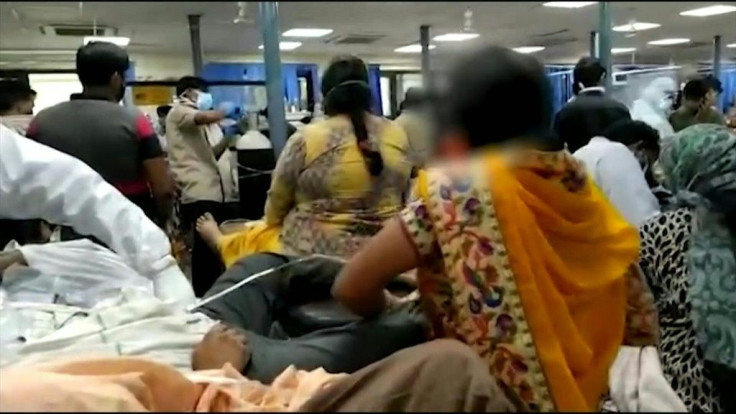 © Copyright IBTimes 2022. All rights reserved.
FOLLOW MORE IBT NEWS ON THE BELOW CHANNELS