India Gets Access To US Targeting Data As Himalayan Border Standoff With China Continues
KEY POINTS
Secretary of State Mike Pompeo warned of the dangers from China
India will get access to topographical, aeronautical data from U.S. satellites
Indian and Chinese armies are locked in a standoff along the Himalayan border
India will be able to access sensitive satellite and map data from the U.S. to more accurately target its missiles and other military assets after the two countries signed a defense agreement, which is widely seen as a signal to China as Beijing pushes an aggressive expansionism around its borders.
The agreement comes amid a months-long standoff between Indian and Chinese troops along their Himalayan borders, with both sides having deployed thousands of troops, artillery, armored vehicles, and aircraft. A skirmish in May between the two sides using sticks and stones left 20 Indian soldiers dead; China accepted that it suffered fatalities in the clash but did not reveal a figure.
Access to the data will help India blunt the logistical and combat edge that the People's Liberation Army has because of the infrastructure it has built up in the difficult-to-access Himalayan areas over the years.
In New Delhi, Secretary of State Mike Pompeo highlighted the dangers of an increasingly assertive China, a theme he has continued to hammer across world capitals as the U.S. tries to rally allies against Beijing's expansionist claims in the south China Sea.
Secretary of Defense Mark Esper, who accompanied Pompeo to New Delhi, signed the Basic Exchange and Cooperation Agreement (BECA) with his Indian counterpart Rajnath Singh to strengthen the security partnership with India as both countries warily eye Chinese expansionism.
India will be able to use topographical and aeronautical data from the U.S. satellites for targeting missiles and armed drones, Reuters reported citing an unnamed India defense source. It added that the satellite data may also be used for navigational aids by aircraft supplied to India by the U.S.
India also reportedly expressed interest in enhancing the information-sharing architecture between the two countries by placing personnel in each other's navy information hub.
"We stand shoulder-to-shoulder in support of a free and open Indo-Pacific for all, particularly in light of increasing aggression and destabilizing activities by China," Esper said according to an Indian government release.
India had earlier treaded a fine line in its relations between China and the U.S. but has leaned more toward the U.S after the border clash. It also invited Australia for this year's Malabar naval exercises next month, which include navies from India, Japan, and the U.S.; New Delhi had resisted Australia's participation in the war games earlier not to antagonize China.
Pompeo warned of China's growing threat during his meeting with Indian officials and underscored the need for the countries to work together.
Navtej Sarna, former Indian ambassador to the U.S., told CNBC that Pompeo's strong remarks were needed to send a message to Beijing about its aggression. He added Pompeo made those remarks in India, because Delhi is restrained by the need to remain diplomatic in its dealing with China.
The U.S. has entered into three other defense agreements with India, giving it access to sensitive and classified information. These agreements include the General Security of Military Information Agreement of 2002, Logistics Exchange Memorandum of Agreement signed in 2016, and Communications Compatibility and Security Agreement of 2018.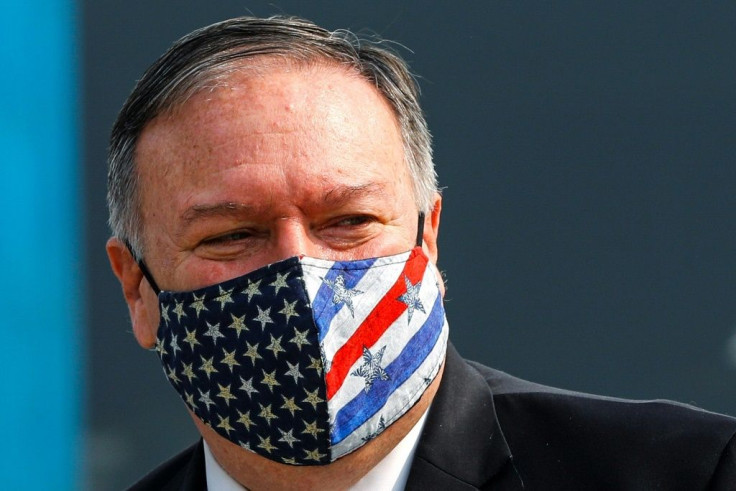 © Copyright IBTimes 2023. All rights reserved.