Indian Child Welfare Act: More Than 800 Native American Children Were Adopted In 2012. How Many Could Be Affected?
In 2011, 2-year-old Veronica was ripped from the arms of the only parents she'd ever known -- legal adoptive parents -- to go and live with her birth father and his spouse. Two years later, this past June, the Supreme Court ordered her loving birth father to give "Baby Veronica" back to her adoptive parents in South Carolina, deciding that the adoption was legal and binding. But it's not over, as her biological father refused to accept the decision, and the two sides are now trying mediation to find a resolution.
As a Native American child, Veronica has been subject to the Indian Child Welfare Act, a federal law passed in 1978 allowing Indian parents to withdraw consent to an adoption at any time prior to a final order, or within two years of the final order if their consent was obtained by fraud or under duress. This law caused young Veronica -- and others -- to be taken away from the people she considered family, not once but twice.
Even though the Supreme Court ruled 5-to-4 against the birth father in this case, the Indian Child Welfare Act is still in effect -- in fact, Veronica could be taken away from her adoptive parents a second time if one of Veronica's family members of the Cherokee Nation filed to adopt her; according to the law, family members and citizens of the Cherokee Nation get preference over a family of any other ethnicity.
More than 800 Native American children (the legal definition of Native American is complicated) were adopted in the year ending Sept 30, 2012. And many of them could potentially end up in similar custody battles.
According to the National Indian Child Welfare Association:
Statistics tell us that Indian children today face many challenges in both public and private child welfare systems. In public child welfare systems, they are removed from their homes at 2–3 times the rate of their white counterparts and often are not placed with relatives or other Indian families, even when such placements are available and appropriate.
Most of these adoptions took place in Oklahoma and Alaska. Here's a map of how many Native American babies were adopted in the year ending Sept. 30, 2012, by state: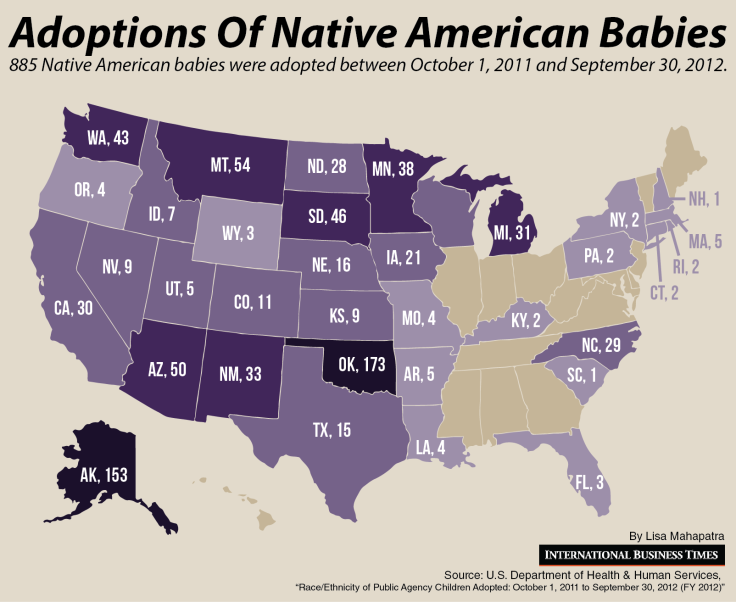 © Copyright IBTimes 2023. All rights reserved.