Indianapolis Colts Draft Preview: More Than Just Luck Is Needed To Win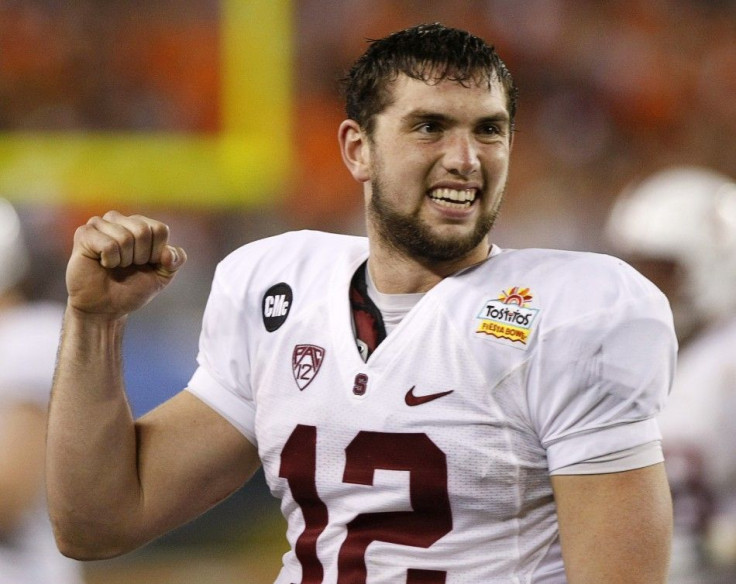 The Indianapolis Colts have already decided to go with Andrew Luck with their first overall pick in the upcoming NFL Draft on Thursday Apr. 26. That would fulfill their most pressing need, which is someone at the quarterback position to replace Peyton Manning and become the player to build around.
With that said, the Colts are rebuilding and have more needs on both sides of the ball than any team. Offensively, Reggie Wayne is still the main wide receiver, but because of the losses of Pierre Garçon and Anthony Gonzalez, a guy to complement him would make the Colts less laughable when moving up field. Defensively, defensive ends Dwight Freeney and Robert Mathis remain the staples, but a nose tackle that could aid them in the team's new 3-4 scheme could prove very beneficial.
With arguably one of the deepest drafts in recent memory, the Colts have the ability to fill every gap they have at the right time. Luck is guaranteed, so now, they will be on the clock on draft night starting in Round 2.
Here's an idea of what positions are of priority for the Colts, who they may take in order to fulfill them and why, round by round:
Round 1, Pick 1:
Quarterback - Andrew Luck (Stanford)
The Colts have already told him he will be their number one overall pick, just as almost every person in the land has predicted. He fulfills their most pressing need thanks to Peyton Manning's departure to the Denver Broncos.
Round 2, Pick 34:
Tight End/Guard
If Stanford tight end Coby Fleener isn't out by this time, the Colts could pick him up. And boy would it be a steal. Fleener is projected as the best tight end in this class and he would immediately provide Luck with a familiar target, one that could perhaps replace Dallas Clark. However, the Colts can also think about getting a quality guard as high as possible to protect Luck for years to come. Assuming Stanford's David DeCastro if off the board, the Colts can choose from guys like Georgia's Cordy Glenn, Wisconsin's Kevin Zeitler, Midwestern State's Amini Silatolu and Illinois's Jeff Allen, whoever is available at the time.
Round 3, Pick 64:
Nose Tackle
The Colts ranked 29th against the run lasts season so they need someone up the middle to provide a wall for opposing backs running in between the gaps. There aren't that many nose tackles in the draft either, so Washington's Alameda Ta'amu could be the best quality guy to go here.
Round 4, Pick 97:
Wide Receiver - Nick Toon (Wisconsin)/Reuben Randle (LSU)/Brian Quick (Appalachian State)
Reggie Wayne is the feature receiver. Newly-signed Blair White is the slot and speed guy. What the Colts need here is the big body, possession receiver. Receivers like Arizona's Juron Criner and South Carolina's Alshon Jeffery will be gone, so Toon (6-foot-2, 215 pounds), Randle (6-foot-3, 210 pounds) or Quick (6-foot-4, 220 pounds) would be ideal to select in order to help Luck move the chains as the team drives up the field. These two also have some speed of their own, too, both havin
Round 5, Pick 136 - Cornerback; Round 5, Pick 170 - Tight end
With their first fifth-round pick, the Colts can get a quality cornerback among a huge pool. Someone such as Coty Sensabaugh is a speedster (he ran a 4.42 at the combine), who if developed the right way, can learn to press, play man-to-man and put pressure on opposing NFL receivers really well. The Colts' second fifth-round pick depends on if they pick Fleener with their second-round pick: if they don't, then this pick merits a tight end; if they do, then consider every pick suggested above moot. In the former case, Rhett Ellison of USC might be a good option.
The Colts have four picks left and can basically retool on whatever positions they feel need more depth. A runningback may be possible if Joseph Addai doesn't return next season.
© Copyright IBTimes 2022. All rights reserved.
FOLLOW MORE IBT NEWS ON THE BELOW CHANNELS