Colts Will Select Andrew Luck First Overall At The 2012 NFL Draft: Report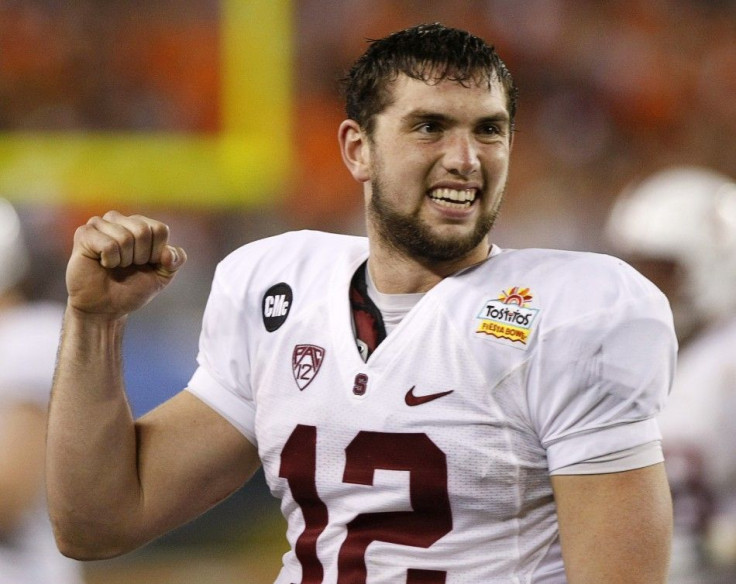 The Indianapolis Colts have told Stanford quarterback Andrew Luck that they will select him with the number one overall pick in the upcoming 2012 NFL Draft on April 26, according to ESPN's Adam Schefter.
A league source said that the Colts have known Luck would be their pick for weeks because his style of play most closely resembles that of former Colts quarterback Peyton Manning. And, as a result, he's the player Indianapolis wants to rebuild around.
Luck has long been the projected No. 1 overall pick since the beginning of his junior year at Stanford, but in recent weeks, the rising stock of Baylor quarterback and Heisman Trophy winner Robert Griffin III has prompted debate of that notion among journalists and fans alike. Nevertheless, many have likened Luck to be the best quarterback prospect since Manning, now with the Denver Broncos, came out of Tennessee in 1998.
With the selection of Luck, the Colts, who got rid of Manning for both financial and rebuilding reasons, will most likely be thrust into the starting job Week 1 when Indianapolis faces the Chicago Bears. The Colts are looking to rebound from a treacherous 2-14 2011 season, a season where Manning was sidelined all year because of a neck injury.
The Washington Redskins, who hold the No. 2 overall pick, will most likely select Griffin III, who like Luck, could very well be thrust into the starting role as well. If Luck and Griffin are selected one and two overall, it will be the first time since Manning and Ryan Leaf were selected one and two overall in 1998 that two quarterbacks are selected back-to-back with the first two overall picks.
© Copyright IBTimes 2023. All rights reserved.