India's Nuclear Power Conundrum: Energy Needs Vs. Safety Concerns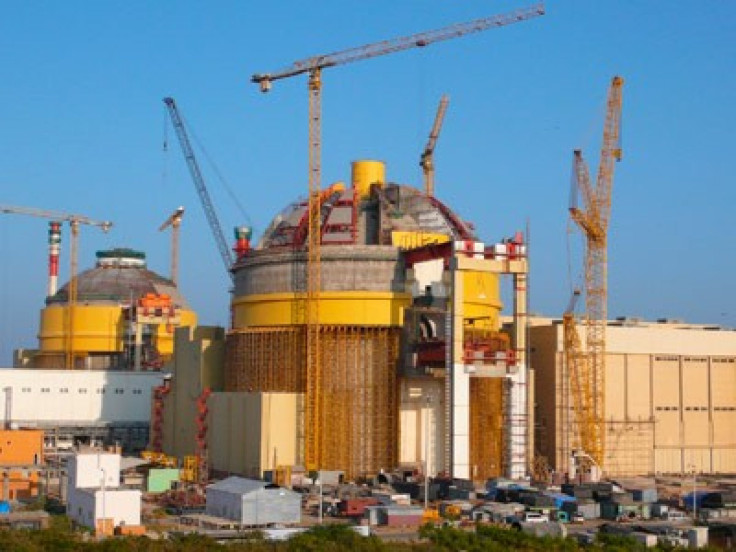 Tensions are running high in Tamil Nadu in southern India after policemen shot and killed a man who was part of a protest against a local nuclear power plant.
The Indo-Russian-built Kudankulam atomic facility has attracted large protests over the past year – given the disaster at the Fukushima plant in Japan in March 2011, Indian opponents of nuclear power have more reasons to express their grievances.
Work at the site has been repeatedly delayed by a series of protests by both local citizens and organized anti-nuclear activists.
The dead man, a 44-year-old fisherman, was killed during clashes with police in nearby Tutucorin where he formed part of a phalanx of protesters blocking roads and railway tracks to prevent the loading of uranium at the Kudankulam site.
The Indian Express newspaper reported that protests against the plant have spread all the way to Chennai where demonstrators have also blocked roads in solidarity with the Kudankulam protesters hundreds of miles to the south.
Chennai protesters included leading politicians, including Lok Sabha MP Thol Thirumavalavan, who heads the Viduthalai Chiruthaigal Katchi political party and S. P. Udhayakumar, of the People's Movement Against Nuclear Energy (PMANE).
Chennai police reported about 200 arrests in connection with the protests.
Tamil Nadu's Chief Minister Jayalalithaa Jayaram has called for calm and assured the public the procedures at the nuclear plant have been determined to be safe.
Given India's frequent power shortages and desperate need for energy to supply its growing population, not everyone is opposed to nuclear power.
Local businesses support the plant, while the government of Tamil Nadu has already approved plans for work at the Kudankulam reactors to commence. Indeed, the massive blackout that struck northern India this summer (the largest such disruption in history which plunged 20 Indian states into darkness) provided nuclear power proponents with even more ammunition.
The former chairman of the Atomic Energy Commission of India, M.R. Srinivasan, told the Times of India newspaper last November that India needs nuclear power and that comparisons between Kudankulam and Fukushima are spurious.
"The Fukushima plant was built on a beachfront, but the Kudankulam was constructed on a solid terrain and that too keeping all the safety aspects in mind," he said.
"Also, we are not in a tsunami-prone area. The plants in Kudankulam have a double- containment system which can withstand high pressure… If we don't operate the plant immediately, it will affect the economic stability of our country".
Srinivasan also said: "If we don't go ahead with nuclear plans, we won't be able to supply electricity to an aspiring population of India," adding that the Kudankulam plant, at full capacity, would make Tamil Nadu self-sufficient with respect to power generation.
The World Nuclear Association stated that India's government expects atomic power to supply one-fourth of all of its energy needs by the year 2050.
However, protesters insist the Kudankulam plant is not safe and presents a danger to people living in the vicinity.
Last August, Udayakumar of PMANE wrote a tract in which he spelled out his reasons for not wanting the nuclear plant in his backyard.
"More than 1 million people live within the 30 [kilometer] radius of the [plant]… It is quite impossible to evacuate this many people quickly and efficiently in case of a nuclear disaster at Kudankulam," he wrote.
"The coolant water and low-grade waste from the [plant] are going to be dumped into the sea which will have a severe impact on fish production and catch. This will undermine the fishing industry, push the [fishermen] into deeper poverty and misery and affect the food security of the entire southern Tamil Nadu and southern Kerala."
Udayakumar added that even during normal operation (that is, in the absence of any accidents), the nuclear plant will emit "Iodine- 131, -132, -133, Cesium-134, -136, -137 isotopes, strontium, tritium, tellurium and other such radioactive particles into our air, land, crops, cattle, sea, seafood and ground water. Already the southern coastal belt is sinking with very high incidence of cancer, mental retardation, Down Syndrome, defective births due to private and government sea-sand mining for rare minerals including thorium. The [plant] will add many more woes to our already suffering people."
Udayakumar also cited that terrorists could use nuclear plants as a target to foment a catastrophe.
He also questioned why the Indian government is so committed to developing nuclear power.
"The Indian government's mindless insistence on nuclear power, utmost secrecy in all of its nuclear agreements and activities, and its sheer unwillingness to listen to the people's concerns and fears make us very doubtful about the real benefactors of all this nuclear hoopla," he stated.
"Is it all for us, the people of India? Or for the corporate profits of the Russian, American and French companies? Or for the Indian military? Are the lives and futures of the Indian citizens inferior to all these?"
India currently has 20 operational nuclear power reactors in India in six states, according to Greenpeace India. Seven more plants are under construction and at least 36 more projects are on the drawing board.
"[These existing plants] contribute less than three percent of the country's total energy generation, yet radioactively pollute at every stage of the nuclear fuel cycle: from mining and milling to reprocessing or disposal," the environmental activist group said.
"There is no long-term radioactive waste disposal policy in India."
© Copyright IBTimes 2023. All rights reserved.