Indonesia Aceh Earthquake: 6.5-Magnitude Tremor Strikes Northern Tip Of Sumatra, Same Area Devastated By 2004 Tsunami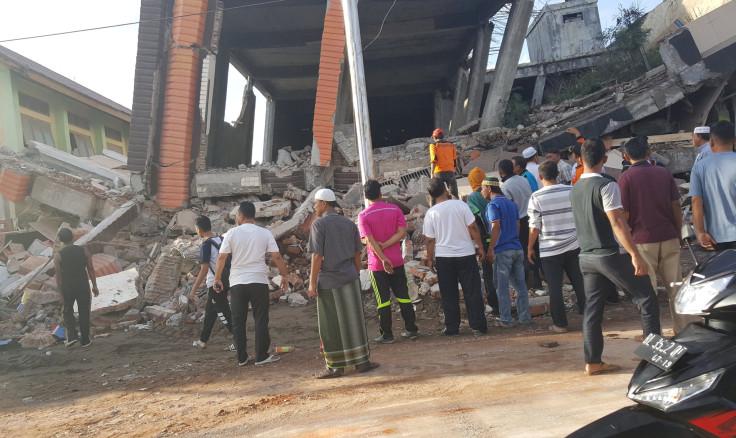 A strong earthquake struck the northern tip of Indonesia's Sumatra Island Wednesday, leaving at least 18 dead, including seven children, and dozens trapped in the rubble.
"The earthquake was felt strongly and many people panicked and rushed outdoors as houses collapsed," Sutopo Nugroho of the National Disaster Management Agency said in a statement.
The quake measured 6.5 magnitude and struck just north of Reuleuet, the U.S. Geological Survey reported. No tsunami alert was issued.
"Several shophouses and homes have caved in in Pidie Jaya district and the owners are still trapped there," Apriadi Achmad, chief of the local disaster management office, told AFP.
The quake struck at dawn and was felt across much of Aceh province, the same area devastated by a tsunami in 2004 that killed 170,000 people in Indonesia, 35,000 in Sri Lanka, 18,000 in India and 8,000 in Thailand. At least five aftershocks were reported within 30 minutes of the initial shock Wednesday.
The quake triggered panic in Sigli where people fled their homes.
"We are now evacuating to Tijue because we are afraid of a tsunami," said Nilawati, who was among those who fled inland.
Heavy machinery was brought in to clear debris and look for survivors.
"Some buildings have been completely flattened," Rudianto, the head of the Aceh Red Cross, told Fairfax Media, including a mosque in Bandar Baru.
"We immediately ran outside the house but it crumbled. Everything from the roof to the floor collapsed, and was destroyed," Hasbi Jaya, 37, told AFP. "I looked around and all my neighbors' houses were also completely destroyed."
In Pidie Jaya, officials said 18 were killed but the Red Cross put the death toll so far at 20.
Said Mulyadi, deputy district chief of Pidie Jaya, told AFP local hospitals were overwhelmed and victims had to be transported elsewhere.
Indonesia is in the Pacific's "Ring of Fire," an area of volcanoes and fault lines in the Pacific Basin.
Geoscience Australia said damage from the quake could stretch 41.6 miles away, and it could have been felt 519 miles out.
© Copyright IBTimes 2023. All rights reserved.
FOLLOW MORE IBT NEWS ON THE BELOW CHANNELS