Indonesia Expands Search For Missing AirAsia Jet, US Sends Warship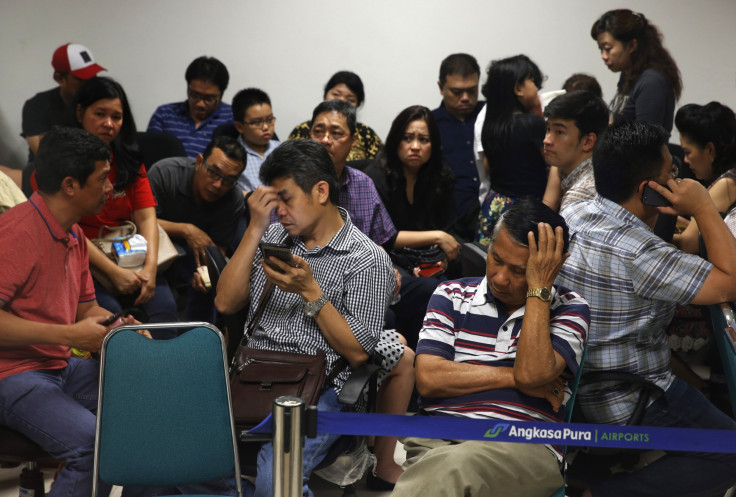 SURABAYA, Indonesia/JAKARTA (Reuters) - Countries around Asia on Tuesday stepped up the search for an AirAsia plane carrying 162 people that is presumed to have crashed in shallow waters off the Indonesian coast, with Washington also sending a warship to help find the missing jet.
Soelistyo, head of Indonesia's search and rescue agency, told local television the search area between the islands of Sumatra andBorneo would be expanded. The air force said authorities would investigate an oil spill sighted on Monday.
Authorities would also begin scouring islands in the area as well as land on Indonesia's side of Borneo. So far the focus of the search has been the Java Sea.
The Airbus A320-200 operated by Indonesia AirAsia lost radar contact in poor weather on Sunday morning during a flight from the Indonesian city of Surabaya to Singapore. The plane could be at the bottom of the sea, Soelistyo said on Monday.
What happened to Flight QZ8501, which had sought permission from Indonesian air traffic control to ascend to avoid clouds, is still a mystery.
Online discussions among pilots have centered on unconfirmed secondary radar data from Malaysia that suggested the aircraft was climbing at a speed of 353 knots, about 100 knots too slow in poor weather, and that it might have stalled.
Around 30 ships and 21 aircraft from Indonesia, Australia, Malaysia, Singapore and South Korea would search around 10,000 square nautical miles on Tuesday, officials said.
They said the sea there was only 50 to 100 (150 to 300 feet) meters deep, which would be a help in finding the plane, which was carrying mainly Indonesians.
The U.S. military said the USS Sampson, a guided missile destroyer, would be on the scene later on Tuesday.
The U.S. Defense Department said assistance to Indonesia "could include some air, surface and sub-surface detection capabilities".
"We stand ready to assist in any way possible," Pentagon spokesman Mark Wright said.
China's Defence Ministry said it had sent a warship to the South China Sea and planes "have begun preparatory work" for search operations.
FALSE ALARMS
There have been no confirmed signs of wreckage so far.
Officials said one of the possible oil slicks seen on Monday turned out to be a reef and that while searchers had picked up an emergency locator signal off the south of Borneo no subsequent signal was found.
The plane, whose engines were made by CFM International, co-owned by General Electric and Safran of France, lacked real-time engine diagnostics or monitoring, a GE spokesman said. Such systems are mainly used on long-haul flights and can provide clues to airlines and investigators when things go wrong.
The plane's disappearance comes at a sensitive time for Jakarta's aviation authorities, as they strive to improve the country's safety reputation to match its status as one of the airline industry's fastest growing markets.
It also appears to be a third air disaster involving a Malaysian-affiliated carrier in less than a year, further denting confidence in that country's aviation industry and spooking air travelers across the region.
Indonesia AirAsia is 49 percent owned by Malaysia-based budget carrier AirAsia.
Malaysia Airlines Flight MH370 went missing on March 8 on a trip from Kuala Lumpur to Beijing with 239 passengers and crew and has not been found. On July 17, the same airline's Flight MH17 was shot down over Ukraine, killing all 298 people on board.
NO SIGN OF FOUL PLAY
On board Flight QZ8501 were 155 Indonesians, three South Koreans, and one person each from Singapore, Malaysia and Britain. The co-pilot was French.
U.S. law enforcement and security officials said passenger and crew lists were being closely examined but so far nothing significant had turned up and that the incident was still regarded as an unexplained accident.
The plane, which did not issue a distress signal, disappeared after its pilot failed to get permission to fly higher because of heavy air traffic, officials said.
Pilots and aviation experts said thunderstorms, and requests to gain altitude to avoid them, were not unusual in that area.
"The airplane's performance is directly related to the temperature outside and increasing altitude can lead to freezing of the static radar, giving pilots an erroneous radar reading," said a Qantas Airways pilot with 25 years' experience flying in the region.
The resulting danger is that pilots take incorrect action to control the aircraft, said the pilot, who requested anonymity.
The Indonesian pilot was experienced and the plane last underwent maintenance in mid-November, the airline said.
The AirAsia group, including affiliates in Thailand, the Philippines and India, had not suffered a crash since its Malaysian budget operations began in 2002.
At a crisis center at the airport in Surabaya, Indonesia's second-largest city, anger grew among about 100 relatives.
"We only need clear information every hour on where they are going," said Franky Chandra, who has a sibling and three friends on the flight, referring to the search teams.
"We've been here for two days but the information is unclear. That's all we need."
© Copyright IBTimes 2023. All rights reserved.