Indonesia Labor Strike: Workers Demand Higher Salaries After Rising Inflation And Fuel Prices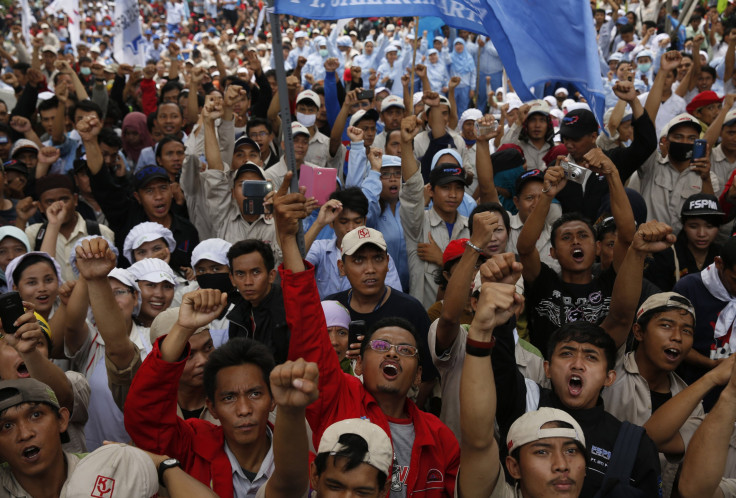 Reeling from high fuel costs and inflation, workers in Indonesia are demanding higher salaries with a nationwide two-day strike.
Nearly 3 million workers will take part in the action, according to estimates from relevant unions, BBC reported on Thursday, though previous strikes have usually seen lower numbers in actual attendance compared to forecasts.
"All factories in Java's industrial hubs have stopped," Said Iqbal, chairman of the Confederation of Indonesian Workers Union, told the AFP. "Many workers who could not afford their rents have had to move out of their homes and live under bridges and in sewers. They are eating instant noodles instead of rice." The cost of living has gone up as a result of rising inflation and a hike in fuel prices, strikers said.
The government reduced its costly fuel subsidy earlier this year, increasing fuel prices in the Southeast Asian nation. As expected, the move proved to be unpopular despite months of delay and endorsement from economists. Consumer prices rose at an annual rate of more than 8 percent in the past three months following the jump in fuel prices.
Indonesia has been one of the fastest-growing economies in Southeast Asia on the success of its manufacturing and mining sectors. But low wages, once the reason for the nation's economic advantage, have in recent years prompted many strikes and other labor actions by unions demanding higher pay and a greater share of the country's prosperity, BBC reported.
This year alone, workers in Jakarta, Indonesia's capital city, received a 44 percent jump in minimum wages to 2.2 million rupiah ($200) per month. There are concerns in the manufacturing sector that profit margins could be erased if workers demand even higher salaries.
Indonesia is among several Southeast Asian economies that have done well in years past but are now facing a slower pace of economic expansion. This year Indonesia, as well as neighboring Thailand, Malaysia and Vietnam, have seen foreign investors withdrawing from their markets.
© Copyright IBTimes 2023. All rights reserved.
FOLLOW MORE IBT NEWS ON THE BELOW CHANNELS