Indonesians Vote For New President, Choice Between Old Guard And New Breed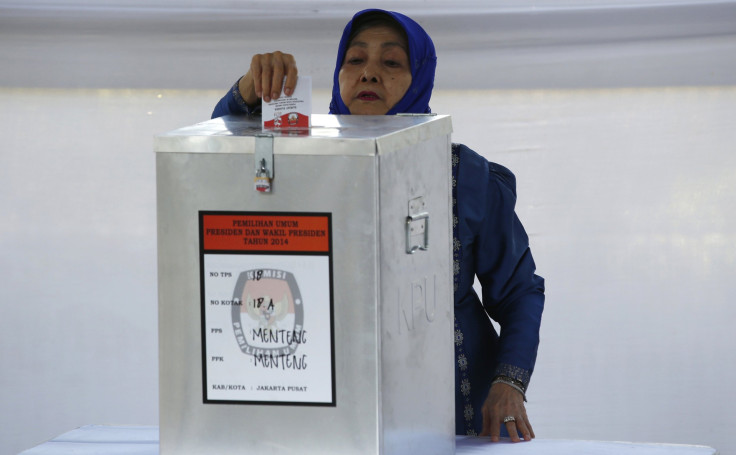 (Reuters) - Indonesians began voting on Wednesday in a presidential election that has become a closely fought contest between the old guard who flourished under decades of autocratic rule and a new breed of politician that has emerged in the fledgling democracy.
Only the third direct election for president in the world's fourth-most populous nation, the contest pits former special forces general Prabowo Subianto against Jakarta Governor Joko "Jokowi" Widodo, who have been running neck-and-neck in opinion polls.
It has also been the dirtiest and most confrontational campaign in memory in a country which traditionally holds up the value of consensus politics.
"This is one of the most important elections in Indonesia's reformation history," Bernard Wanandi, 37, said at a polling station in Menteng, a suburb of Jakarta. "As a young generation we have high expectations of the new leader, hoping he will bring the country forward and change the country tremendously."
Voting started in distant eastern islands and finishes two time zones away in the densely populated west at 0600 GMT (2 a.m. EDT) on Wednesday. Early counts by pollsters should give an idea of the outcome around 1200 GMT (8 a.m. EDT).
The government declared Wednesday a public holiday and markets were closed. Streets in Jakarta were unusually free of traffic jams and polling stations seemed to be coping well with a steady stream of voters. Hundreds queued up outside polling stations in the south Jakarta city of Bogor. In Tasikmalaya, on the west of the island of Java, women in headscarves quietly waited their turn to vote.
Jokowi, 53, is considered the most popular politician in Indonesia and is the slight favorite.
Born into poverty, he has stormed his way to the top rungs of leadership with a clean image and a reputation for competence in local government, a reversal of the autocracy, corruption and power politics that have weighed down Southeast Asia's biggest economy for decades.
After voting, Jokowi was due to accompany Megawati Sukarnoputri, former president and head of the Indonesian Democratic Party-Struggle (PDI-P), when she casts her vote, local media said. Megawati put aside her own ambitions to return to the palace and nominated Jokowi for the post instead.
STRONG GOVERNMENT
His rival, Prabowo, 62, has surged in popularity over the last few weeks, running on a platform of strong and effective government, invoking memories of Indonesia's post-colonial and fiercely nationalist first president Sukarno, who ruled from 1945-67.
Prabowo's high-profile military career, during which he rose speedily through the ranks, unraveled quickly after the 1998 fall of long-serving autocrat Suharto, his former father-in-law.
Prabowo was discharged from the army for breaking the chain of command and ordering troops to arrest activists. He was never investigated on any criminal charge and has consistently denied wrongdoing.
The election will mark the first time a directly elected president hands over the reins to another in the world's most populous Muslim nation. Outgoing President Susilo Bambang Yudhoyono, who has largely disappointed in recent years, must step down in October after serving two terms.
"I hope the new leader will be better than the past and doesn't make empty promises," said Nunu, 54, in Menteng. "In the past they never fulfilled any promises."
The election commission expects a high turnout. Of 190 million eligible voters, around 11 percent will be punching the ballot for the first time. Close to a third are under 30.
A Prabowo win is expected to weaken markets due to concerns he will introduce protectionist policies in the financial and farm sectors, and launch big debt-funded spending projects.
The rupiah has eased more than 2 percent since mid-May when Jokowi's big lead in opinion polls began to slip. Stocks on Tuesday traded near one-year highs as investors anticipated a Jokowi win.
The central bank, which holds its monthly interest rate policy meeting on Thursday, said it stood ready to intervene in the market if needed.
"(Bank Indonesia) will ensure that rupiah stability will be maintained. We will not say what we will do but we will keep the fluctuation in a normal range," central bank governor Agus Martowardojo told reporters.
© Copyright IBTimes 2023. All rights reserved.