Indonesia's Mount Lokon has Double Eruption Monday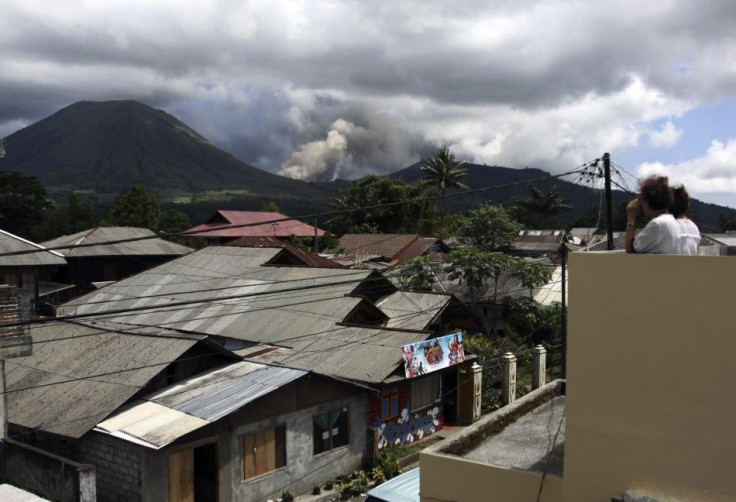 An Indonesian volcano that began erupting last Thursday spewed hot gasses and ash in two eruptions on Monday that highlighted the unpredictability of this volatile mountain.
The two eruptions occurred about ten minutes apart, and the second of the two blasts at the 5,741-foot (1,750-meter) Mount Lokon spewed ash as high as 2,000 feet (600 meters) into the air, said Farid Ruskanda Bina, a government volcanologist stationed near the volcano on northern Sulawesi Island.
The mountain came awake last week and about 5,200 people living nearest to the crater were evacuated in recent days to schools, mosques, and other makeshift shelters near the base. Cloves and coffee are the staple crops of the over 33,000 people who live along the fertile slopes of Mount Lokon.
No injuries or fatalities have been reported from Monday's eruptions, said Sutopo Purwo Nugroho, a spokesman for the National Disaster Management Agency. However, one person died from an apparent heart attack during the evacuations last week. Volcanologists have declared a 2 mile (3.5 kilometer) evacuation zone.
The previous eruption on Sunday proved the most powerful so far, pelting soot and debris 11,400 feet (3,500 meters) into the sky. Residents in Manado have complained of respiratory problems caused by smoke and falling ash. The provincial capital of North Sulawesi, Manado lies about 10 miles east of Mount Lokon.
Only a fortnight ago, another of Sulawesi Island's most active volcanoes, Mount Soputan, erupted, but there was no need for evacuations. The country's most active volcano, Mount Merapi in central Java, killed more than 350 people in a series of violent eruptions last year.
A vast archipelago of 235 million people, Indonesia is prone to earthquakes and volcanoes as it sits atop the Pacific Ring of Fire, a horseshoe-shaped string of fault lines that edge the Pacific Ocean.
Mount Lokon is one of an estimated 129 active volcanoes in Indonesia. Its last major eruption back in 1991 killed a Swiss hiker and forced thousands to flee their homes.
© Copyright IBTimes 2023. All rights reserved.