Infographic: Where Most Climate Change Deniers Live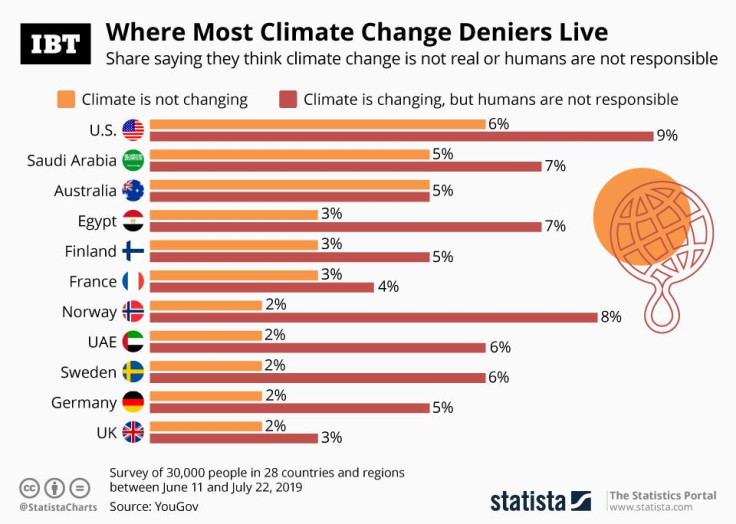 Climate activist Greta Thunberg's emotional speech at the United Nations Climate Action summit on Monday garnered applause from world leaders. U.S. President Donald Trump was not scheduled to be in attendance, but ran into Thunberg in the U.N. lobby, where Trump ignored the 16-year-old, while she was captured on camera sending an icy stare his way.
The U.S. had not scheduled a speaker for the summit. U.N. Secretary-General António Guterres had told countries beforehand that they were banned from the agenda if they didn't offer substantial new contributions to the fight against climate change. The U.S. under Trump has been rolling back climate protections and plans to exit the 2015 Paris climate agreement.
Either Trump is pandering to voters back home or U.S. citizens are taking cues from their president who has repeatedly called climate change a hoax: According to YouGov, the U.S. is the country with the highest share of climate change deniers. In a survey carried out in July, 6 percent of Americans said that climate change was not real, and 9 percent said that the global climate was changing but not because of humans. These were the highest percentages recorded in any of the 28 countries surveyed.
Other countries with high rates of deniers were Saudi Arabia and Australia, two more countries reliant on oil products for exports or use at home. Scandinavian countries also ranked highly, with oil nation Norway recording the second-highest rate of people believing in climate change not caused by humans.
FOLLOW MORE IBT NEWS ON THE BELOW CHANNELS