International Carrot Day 2021: 5 Easy Recipes You Can Try
International Carrot Day was established in 2003 and has since been celebrated every year on April 4.
Carrot Day celebrations have now spread throughout the world, becoming popular in all the places where carrots are grown. Aimed at appreciating the benefits of the healthy taproot vegetable, such celebrations are now reported across continents, reaching countries like France, Sweden, Italy, Russia, Japan, Australia and the United Kingdom.
This no longer comes as a surprise that carrots are loved by many. The root vegetable is well-known for its health benefits and long shelf life. They contain alpha- and beta-carotene and are packed with the right amount of vitamin K and vitamin B6. When stored in the refrigerator, carrots can be used in all seasons—spring, autumn and even winter. The vegetable can grow in many diverse conditions, too, although they are harvested in the summer and fall seasons of their growth sites.
Carrots are among the vegetables that can be eaten in different ways. They can be used for a wide array of recipes, ranging from raw cakes and sides to desserts. And you can explore some of these recipes this International Carrot Day to celebrate the versatility and the many health benefits of this vegetable.
Here are some recipes you can try to commemorate the occasion.
1. Perfect Sauteed Carrots (Courtesy: A Couple Cooks)
Ingredients:
8 medium carrots
2 tablespoons olive oil
¼ teaspoon plus 1 pinch Kosher salt
1 tablespoon chopped fresh thyme or other fresh herbs
Peel the carrots and then wash them. Slice them diagonally into rounds. Heat the oil in a large skillet. Add carrots to the skillet, cover and cook for 4 minutes without stirring. This helps to retain the moisture inside the pan. Now uncover and add salt. Continue to sauté for 3 to 4 minutes until browned, stirring occasionally. Remove from the heat and stir in fresh herbs. Serve immediately.
2. Carrot-apple Juice (Courtesy: Healthy Recipes 101)
Ingredients:
2 fl oz carrot juice from 26 oz carrots
12 fl oz apple juice from 16 oz apples
8 fl oz orange juice from 14 oz oranges
1 tsp ginger
2 cups ice
Wash and peel carrots, oranges and ginger. Remove the ends and slice carrots into circles. Cut apples into wedges and oranges into quarters. Remove seeds (optional). Add the ingredients to the juicer. Once all the juice is collected, stir it to mix and add 1/2 a cup of ice to each glass. Serve cool.
3. Honey glazed carrots (Courtesy: A Couple Cooks)
Ingredients:
8 medium carrots (1 pound)
2 tablespoons butter (or olive oil for dairy free)
1/4 teaspoon kosher salt, plus more to taste
1/2 tablespoon brown sugar
2 tablespoons honey
Peel the carrots and slice them diagonally into 1/4-inch rounds. In a large skillet, heat the butter and add the carrots. Cover and cook it for 4 minutes without stirring. Remove the lid, stir and add the 1/4 teaspoon kosher salt, brown sugar and honey. Continue to sauté uncovered for 3 to 4 minutes until the sauce is bubbly and caramel in color and the carrots are crisp-tender, stirring occasionally. Remove from the heat and add about 1/8 teaspoon kosher salt (to taste). Serve immediately.
4. Simple Carrot Salad (Courtesy: A Couple Cooks)
Ingredients:
1 tablespoon white wine vinegar
1/2 tablespoon Dijon mustard
1 teaspoon sugar or maple syrup
1/2 teaspoon kosher salt
3 tablespoons olive oil
1 pound carrots, julienned (3 cups)
2 green onions
3 tablespoons chopped parsley
In a medium-sized bowl, whisk together white wine vinegar, Dijon mustard, sugar or maple syrup and kosher salt. Gradually mix in the olive oil. Julienne the carrots and thinly slice the green onions. Finely chop the parsley. Add all the vegetables to the bowl with the dressing and stir to combine. Serve immediately or refrigerate for up to 3 days.
5. Perfect Carrot Smoothie (Courtesy: A Couple Cooks)
Ingredients:
1 cup thinly sliced carrot rounds
1 large apple, chopped into cubes
1 banana (room temperature)
1/2 cup orange juice
1/2 cup frozen pineapple or mango
10 ice cubes
Optional mix in: 1/2 teaspoon grated fresh ginger, 1/4 teaspoon cinnamon
Peel the carrots and slice them into rounds. Chop the apple, keeping the peel on. Break the banana into pieces. Add all ingredients to the blender and blend until smooth. Eat immediately or store up to 1 day refrigerated in a covered jar.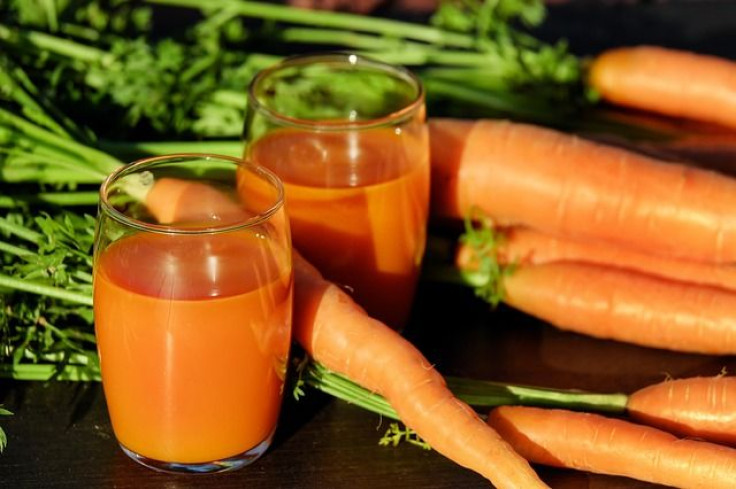 © Copyright IBTimes 2023. All rights reserved.