Internet In Myanmar Remains Slow, Unstable, And Affordable To Less Than 1% Of The Population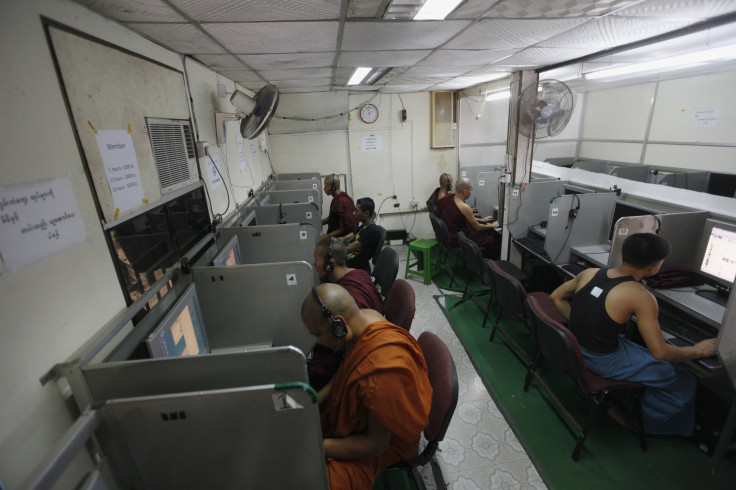 Many in Myanmar will be getting affordable mobile services as soon as Ooredoo, Telenor and the local conglomerates begin to build up the country's infrastructure, but the Internet may remain unattainable for most of the 60 million citizens, as the government has not let go of its tight grasp, and connection is still slow and spotty.
There are three Internet providers in Myanmar: Red Link Communications, Sky Net MPS and Yatanarpon Teleport. Red Link is owned by the sons of the former military junta's No. 3 man, Sky Net is owned by a business tycoon, Shwe Than, who is a close ally of President Thein Sein, and Yatanarpon is a state-owned firm, according to the Irrawaddy, a Myanmar news outlet.
All three companies work under the state-owned Myanmar Posts and Telecommunications, which exclusively handles the communications sector, providing landlines to households, businesses and government offices, and operating the street phone booths across the country. In the mobile sector, too, MPT is set to be one of the two major local competitors for the two foreign firms that won the telecom tenders – Qatar's Ooredoo and Norway's Telenor.
Aside from visiting an Internet café, connecting to the Internet is extremely pricey and troublesome. First, one must have a landline, which would require the applicant to show the government-issued national ID, pay around $500 and go through a trying process that could take up to three months. Those who are renting their homes are less likely to be approved.
Next, one needs to pay an installation fee of $1,000 to $1,500 for fiber-optic Internet, with a monthly fee of around $600 to $700, astronomical sums to the average worker in Myanmar with a monthly salary of just 80,000 kyats ($82.47). Even visiting an Internet café costs 400 kyats per hour, unaffordable for many.
The expensive process has led to one of the lowest Internet penetration rates in the world – accounting for land connections and Internet cafes, just 500,000 Burmese out of 60 million have somewhat regular access to the Internet - fewer than 1 percent.
Even when one manages to get online, it can be a frustrating experience. The connection speed can be excruciatingly slow, but can be bumped up if one is willing to pay a premium over the usual rates.
"The speed can be fixed," Aung Bar Lay said, according to the Irrawaddy. "You only need to have good connections with the government. I have heard people talking about giving extra amount of money under the table just for them to have better Internet connections."
For example, in downtown Yangon, the Internet download speed is only 0.13 megabits per second at a budget inn, while a nearby restaurant whose owner is connected to the military has a download speed of 0.55 megabits per second. Those numbers are far below the connection speeds in nearby Thailand, the Philippines, Vietnam, and even Laos, a socialist country that just like Myanmar, has lagged behind its neighbors in Southeast Asia in economic development.
Some, like Aung Bar Lay, believe the "disconnectivity" is deliberate, and the speed is controlled by the state. The slow, unreliable service is another form of the government's censorship.
"On the surface it looks open, and in many ways it is more open compared to years ago," said Jessica Steven, a Canadian who works for Burma Partnership, an NGO. She noted that the state of the communications sector remains worrisome, according to the Irrawaddy. "But all the factors are there that would indicate what the real Burma is now and what it intends to be in the future. In reality, nothing is really changed."
© Copyright IBTimes 2022. All rights reserved.
FOLLOW MORE IBT NEWS ON THE BELOW CHANNELS