iOS 6 Problems: Apple Maps Accidentally Reveals Secret Taiwan Base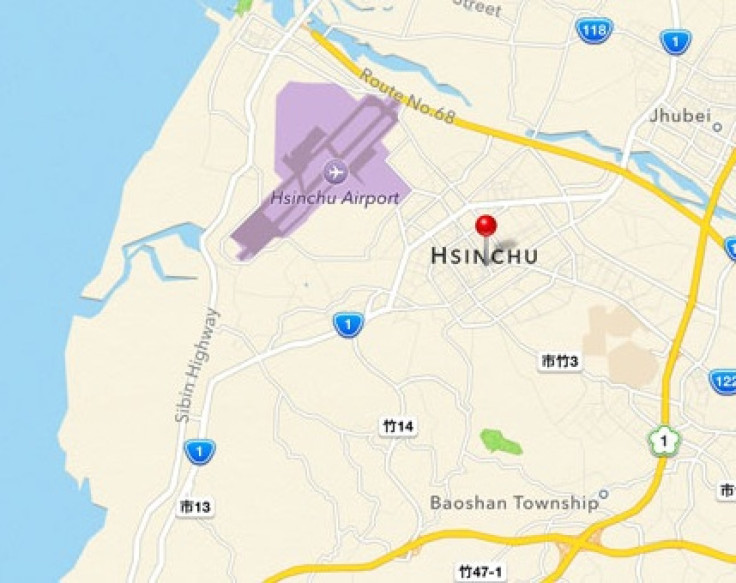 Apple Maps has experienced plenty of hilarious and embarrassing blunders since it debuted with iOS 6 on Sept. 19, but the imperfect mapping application had never gotten into any real trouble, until now. After one Taiwanese newspaper snapped and printed a satellite photo of a top-secret military base from the new Maps application running on an iPhone 5, the defense ministry of Taiwan on Tuesday publicly requested Apple blur the sensitive images of the country's classified military installations.
"Regarding images taken by commercial satellites, legally we can do nothing about it," said David Lo, the spokesman of the defense ministry, in a statement to Taiwanese reporters on Tuesday. "But we'll ask Apple to lower the resolution of satellite images of some confidential military establishments the way we've asked Google [to do so] in the past."
The top-secret radar base, which is located in the northern county of Hsinchu, contains a highly-advanced ultra-high-frequency long-range radar that military officials say can detect missiles launched as far away as the city of Xinjiang, which is located in a northwest province of China. The radar system was obtained via U.S.-based defense group Raytheon in 2003, and is still being constructed with hopes to be completed by the end of this year.
According to Taiwan's defense ministry, the radar cost $1.23 billion to purchase and will cost more to finish and maintain, but the country feels the system is important to give its citizens a few minutes of extra warning time in case of a Chinese missile attack. With constant tensions between the two countries since Taiwan started governing itself in 1949 -- China doesn't see it that way, considering Taiwan part of its territory "awaiting reunification, by force if necessary" -- and 1,600 ballistic missiles reportedly aimed at the island, Taiwan has every reason to keep its defenses top secret.
While the Taiwanese government had previously worked with Google to blur out secret buildings in its Google Earth software, Apple said it has still not yet received a formal request from the defense ministry. Taiwan PR company Bravo, which handles media relations between the government and the Cupertino, Calif.-based computer company, refused to speculate on how Apple would respond to Taiwan's request.
Meanwhile, Apple engineers are working around the clock to fix all of the issues and instabilities in iOS 6 Maps, and there's much work to be done. While colorful and beautiful, Apple Maps is often inaccurate and lacks major features like local search, which makes it extremely limited as an application to explore, instead of merely navigate, the world. Some of the most laughable inaccuracies of iOS 6 Maps have been documented in a Tumblr blog mockingly called, "The Amazing iOS 6 Maps."
© Copyright IBTimes 2022. All rights reserved.
FOLLOW MORE IBT NEWS ON THE BELOW CHANNELS