Iran Elections: Rouhani And Moderate Allies Make Significant Gains, Win Majority In Clerical Assembly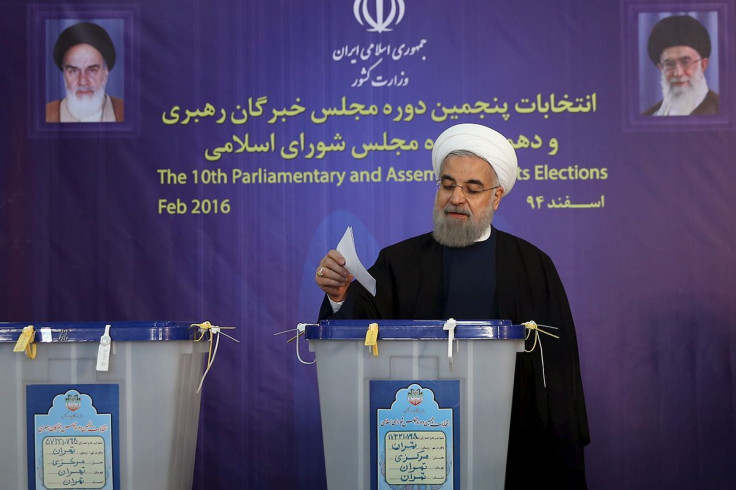 Iran's President Hassan Rouhani and his allies have won 15 of the 16 Tehran seats in the Assembly of Experts — a clerical body that has the power to choose the nation's supreme leader. Moderates, including Rouhani and former president Akbar Hashemi Rafsanjani, have captured 59 percent of the seats in the 88-member body, according to media reports.
Ayatollah Mohammad Yazdi, the assembly's current chairman, and Ayatollah Mohammad Taghi Mesbah Yazdi, the spiritual mentor to the hard-line former president Mahmoud Ahmadinejad, both lost their seats.
Since the Assembly of Experts sits for an eight-year term, its newly elected members may end up choosing the current Supreme Leader Ayatollah Ali Khamenei's successor.
Results of the country's parliamentary elections, which were also held along with the vote for the Assembly of Experts, are expected later Monday. So far, if preliminary results are any indication, Rouhani's allies are poised to take all 30 parliamentary seats in the Tehran constituency. However, none of Iran's three main political groups — reformists, conservatives and hard-liners — is predicted to win an outright majority in the 290-seat parliament, as the reformists' gains outside the capital are expected to be offset by the conservatives, who are likely to keep hold of many seats.
The elections mark the first time Iranians have gone to the poll since last year's landmark nuclear deal led to a partial lifting of international sanctions that had long crippled the oil-rich nation's economy. About 55 million people were eligible to vote during Friday's elections, which saw a turnout of nearly 60 percent, according to local media reports.
Despite securing the nuclear deal, Rouhani has faced resistance at home to domestic reform, and many conservatives have accused his party of "colluding with foreigners" to block conservative appointments to the country's Assembly of Experts.
"Is this type of coordination with foreigners in order to push out these figures from the Assembly of Experts in the interests of the regime?" Ayatollah Sadeq Amoli Larijani, the country's hard-line judiciary chief, reportedly said in a statement Saturday.
© Copyright IBTimes 2023. All rights reserved.