Iran lawmakers urge death for opposition leaders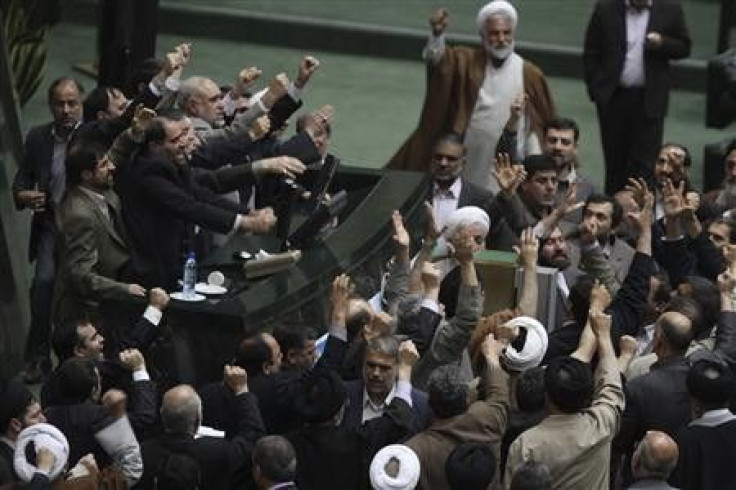 Iranian lawmakers called for the death penalty on Tuesday for opposition leaders they accused of fomenting unrest after a rally in which a least one person was killed and dozens were wounded, state media said.
Clashes broke out on Monday between security forces and protesters when thousands rallied in sympathy for popular uprisings in Egypt and Tunisia on Monday. They revived mass protests that shook Iran after a presidential vote in 2009.
(Opposition leaders) Mehdi Karroubi and Mirhossein Mousavi are corrupts on earth and should be tried, the official IRNA news agency quoted members of parliament as saying in a statement. The statement was signed by 222 lawmakers out of 290.
Being corrupt on earth is a charge which has been levelled at political dissidents in the past. It is a capital offence.
A spokesman for the Islamic republic's judiciary, Gholamhossein Mohseni-Ejei, said: Those who created public disorder on Monday will be confronted firmly and immediately.
One member of parliament, Kazem Jalali, was quoted by the student news agency ISNA as saying two people died in Monday's events, one of whom was shot dead.
A group of hardline Iranians, including students and clerics, planned to stage a sit-in outside a Tehran judiciary complex on Tuesday, demanding immediate trial of Karroubi and Mousavi, the semi-official Fars news agency reported.
It also said hardline students protested against Mousavi and Karroubi in various universities in Tehran.
WESTERN PLOT
Iranian authorities have repeatedly accused opposition leaders of being part of a Western plot to overthrow the Islamic system. The claim has been denied by Mousavi and Karroubi, who were prevented from attending Monday's Tehran demonstration.
Parliament speaker Ali Larijani also accused the United States and its allies of providing support to the opposition following uprisings in Tunisia and Egypt, both Western allies.
The main aim of Americans was to simulate the recent events in the Middle East in Iran to divert attention from those countries, Larijani said, state radio reported.
Protests against Iran's clerical establishment seemed to be over on Tuesday and life in the main cities was back to normal.
But its leaders are wary of a repeat of the kind of protests which shook Iran after a presidential election in 2009. That was the biggest unrest since the 1979 Islamic revolution.
At least 20 pro-reform activists were arrested before Monday's marches, opposition websites said.
State television called protesters monarchists, thugs and seditionists. Police said dozens of protesters were arrested and at least nine policemen were wounded by what they called hypocrites acting for the United States, Britain and Israel.
Iran's top authority Supreme Leader Ayatollah Ali Khamenei has called the uprisings in Egypt and Tunisia against secular, Western-allied rulers an Islamic awakening, akin to the revolution that overthrew the U.S.-backed shah in Iran.
But the opposition says they mirror their own protests after the re-election in June 2009 of President Mahmoud Ahmadinejad.
© Copyright Thomson Reuters 2023. All rights reserved.