Iran Supreme Leader Ayatollah Khamenei Hails Russia For Foiling US Efforts In Middle East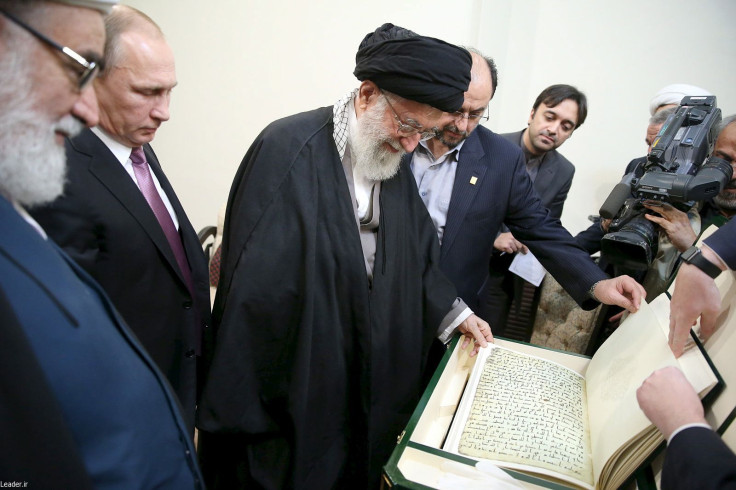 Iran's Supreme Leader Ayatollah Seyyed Ali Khamenei asked Russian President Vladimir Putin to be vigilant about the United States' plans in West Asia. According to him, Washington's plans are particularly against the interests of Russia and Iran.
Putin presented the Supreme Leader one of the oldest manuscripts of the Holy Quran at the Monday meeting in Tehran. Khamenei said in the meeting the U.S. wanted to dominate Syria to expand its territory in the Middle East.
The Iranian leader said Washington had no right to overlook the Syrian people who, despite their differences in ethnic, religious and political perspectives, had voted Bashar Assad as their president.
America's "Cooperation with countries that have lost their credit in regional and global public opinion due to their support for terrorists shows that the Americans do not follow an honest diplomacy." Khamenei's official website quoted him as saying. He added that one of the obvious flaws in Washington's Middle East policy was aiding terrorist groups like Islamic State group.
The Supreme Leader hailed Russia's efforts in the Middle East to neutralize America's plot to "drive their rivals into a position of inaction."
"If the terrorists, who are committing these crimes in Syria, are not repressed, the extent of their destructive activities will spill over into Central Asia and other regions," he added.
Putin, on his part, said Russia regarded Iran as a "trustworthy and reliable ally."
"Unlike certain [governments], we are committed to not stabbing our partners in the back and not taking any action in secret against our friends and [even] if we have differences we [prefer to] reach understanding through dialogue," Putin said.
Khamenei is known for his opposition against the U.S., a stance he takes often in public. He was reluctant to have any dialog with Washington and repeatedly asked his leaders not to negotiate with U.S. officials during the nuclear talks. He believed that the U.S. tried to harm Iran's national interest during the nuclear negotiations.
© Copyright IBTimes 2023. All rights reserved.