Iraq Protest Tensions Escalate As Crude Oil Prices Drop Following China's 'Black Monday'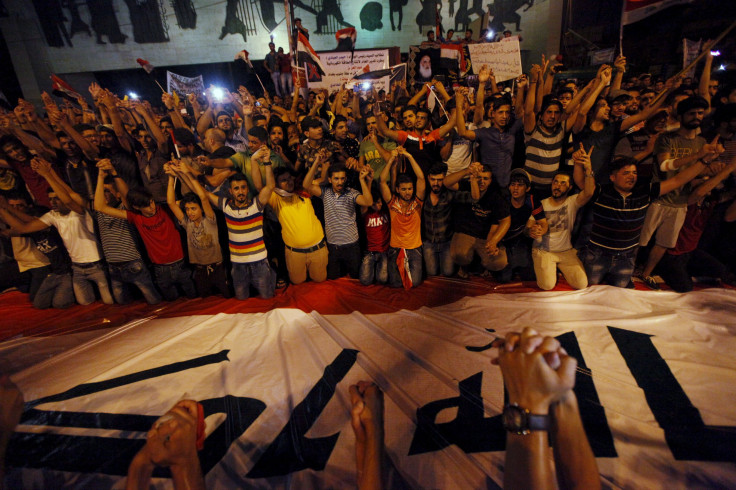 In Iraq's southern city of Najaf, people in local restaurants, sitting in 120-degree heat, switched on their televisions. They'd heard there was going to be another call to protest in the streets this week, except this time the message came from Iraq's leading Shiite cleric, Muqtada al-Sadr. The man who rallied Shiite fighters against American forces during the Iraq War called on the people to rally in the capital Friday to demand basic services, marking the first time a major political leader has spurred locals to join the protests that have swept the country recently.
"We announce to all people and to the Sadrists in particular the need to participate in protests this Friday in Baghdad," Sadr said through a televised speech by spokesman Salah al-Obeidi in the holy city of Najaf. "The Sadrist participants should merge with the other protesters in a single, national Iraqi crucible."
Multiple protests have taken place in Baghdad in the past few weeks over corruption in the central government, ongoing electricity cuts and lack of other basic resources like water. Since then, Prime Minister Hader al-Abadi has implemented corruption reforms, including sacking key members of his cabinet as well as other top officials, but so far none of his reforms have targeted economic issues. The Iraqi economy, which receives almost 90 percent of its revenue from oil, is vulnerable following Monday's Chinese stock market drop, which sent oil prices down to $42 a barrel, 6 percent less than last week and less than half what it was last year.
The dropping oil prices and major cutbacks in exports have only increased the cost-saving electricity outages in the country, not to mention tensions among locals. The annual growth rate for electricity demand is anywhere from 4 percent to 8 percent across the Middle East and North Africa, according to World Bank estimates, but it stands at about 25 percent in parts of Iraq amid the ongoing shortages.
In July, Iraq exported 96.2 million barrels of crude, breaking previous records and generating revenues of $5.31 billion in oil, according to the Iraqi Ministry of Oil. But this month, Iraq's oil exports have fallen by 250,000 barrels per day, according to estimates from the Iraqi Energy Network, a research and policy institute in Baghdad. Low oil prices and a drop in exports lead to a decline in monthly revenues.
Analysts say the falling oil prices -- partly from the U.S. fracking boom -- and the consequences of the drop, could have been predicted by the Iraqi government, but existing policies prevented Baghdad from implementing mechanisms to protect its currency and its deficit from growing.
"From 2010 until now, the shale industry has boomed significantly in America. This has basically made the U.S. less dependent on crude in Iraq," said Luay al-Khatteeb, a foreign policy fellow at the Brookings Institute, a think tank in Doha, and expert on Iraqi oil, adding that the American shale industry has cut revenues for Iraq significantly in the past year. "But there was a bad policy implemented by the Saddam regime where public spending would continue to increase under the assumption that oil prices would continue to rise and would stay around 100 dollars a barrel."
The introduction of the Islamic State group in lands that hold large oil reserves has further complicated matters for the oil sector in Iraq. Oil consumers living in areas dominated by, or even loosely controlled by, the Islamic State group are having to pay almost double the normal amount for a gallon of gas (usually sold by merchants on the side of the road in rural areas) because the Sunni militant group has siphoned off millions of barrels of oil from the national grid.
Iraqi Imports and Exports over Time | FindTheData
Meanwhile, the Kurdish government has been struggling to limit the damage and theft from the Ceyhan pipeline in Southeast Turkey as bombardments targeting the Kurdish militant group known as the Kurdistan Worker's Party continue in northern Iraq. The Kirkuk-Ceyhan pipeline stopped production in March because of the uptick in ISIS attacks on it, with the halt costing Iraq about $1.5 billion a month. An explosion in July also cost the pipeline $250 million. In total, the Kurdish government has suffered $501 million in losses over the past seven weeks, the Iraqi Energy Network said in a recent report.
Now, because of the economic hurdles, the Iraqi government's $102.5 billion 2015 budget is running at a deficit of about $21.4 billion, and the continued threat from ISIS will put more pressure on the budget.
In January Iraq's parliament passed a budget of $105 billion, which constituted a 16 percent cut in spending, according to a report by The Economist. The budget also attempts to raise revenue by introducing a sales tax on mobile and Internet top-up cards, airline tickets, vehicles, alcohol and cigarettes. Despite these maneuvers, the budget still projects a large deficit.
As a result of low funds, Baghdad is having a difficult time paying oil companies such as Exxon, BP, Royal Dutch Shell, and Lukeoil that operate in the country's southern oil fields. The oil companies are paid a fixed dollar fee for production, so with the drop in oil prices, the amount of crude needed to pay the companies has roughly doubled, according to the Iraqi Ministry of Oil.
Although Abadi has yet to introduce any reforms to fix the electricity issue in the country, the Iraqi parliament on Tuesday threatened the electricity minister with a vote of no confidence if he does not appear within four days to be questioned over the persistent power crisis.
Sadr's call to Iraqis has already gained momentum, especially on social media, where people in the southern part of the country say they are ready to attend the protests Friday. Thousands of people protested when Shiite cleric Grand Ayatollah Ali al-Sistani called for demonstrators earlier this month. The same number of people, if not more, are expected to show up in Baghdad Friday.
FOR FREE to continue reading
✔️ Unlock the full content of International Business Times UK for free
offer available for a limited time only
✔️ Easily manage your Newsletters subscriptions and save your favourite articles
✔️ No payment method required
Already have an account?
Log in
© Copyright IBTimes 2023. All rights reserved.