Iraqi And Kurdish Forces Bid To Break Islamic State Siege Of Amerli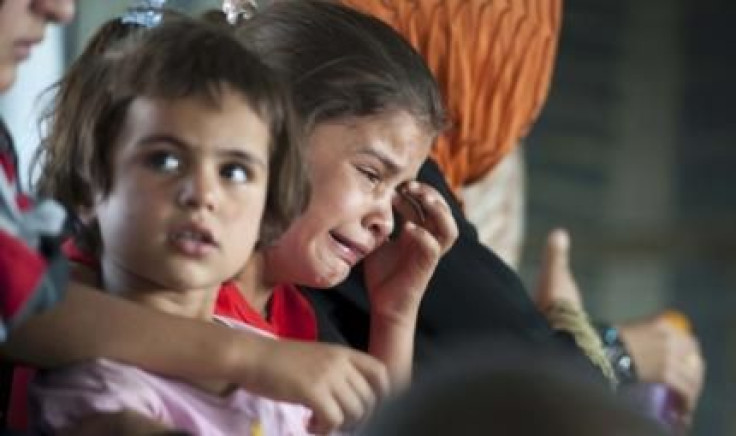 BAGHDAD (Reuters) - Iraqi army and Kurdish forces closed in on Islamic State fighters Saturday in a push to break the Sunni militants' siege of the Shiite town of Amerli, army sources said. Two officers said Iraqi troops, militia and Kurdish peshmerga were advancing from four directions on the northern town, which has been surrounded by Islamic State forces for more than two months.
In a separate incident Saturday, a suicide bomber driving a car packed with explosives killed at least 11 people in a town just south of Baghdad.
Armed residents of Amerli have managed to fend off attacks by the Islamic State fighters, who regard its majority Shiite Turkman population as apostates. More than 15,000 people remain trapped inside.
A major in the Iraqi army, who was advancing north toward Amerli from Udhaim, said progress was slow because the militants had mined the roads. He said they were around 15 km (9 miles) from the town, while those approaching from the north were just 3 km away. The major said he had counted the corpses of more than 40 militants killed in Iraqi airstrikes on the road between Udhaim and the village of Injana.
Islamic State militants overran most of Sunni Arab Iraq after seizing the northern city of Mosul June 10, and have proclaimed a caliphate straddling the border with Syria where they also control vast swathes of territory. The lightning offensive brought the militants within range of the capital of Iraq's autonomous Kurdistan region earlier this month, prompting airstrikes by the United States.
The Kurds have since been slowly regaining ground from the militants and Saturday advanced on the northern town of Zumar. Peshmerga spokesman Halgurd Hikmat said control over Zumar would help the Kurds to retake Rabia and Sinjar -- two other areas seized by Islamic State.
Violence in Iraq has spiralled out of control this year, reaching levels not seen since the dark days of 2006-07 when the country was convulsed by civil war.
The suicide bombing took place at a checkpoint at a northern entrance to the town of Yusifiya, 15 km from the capital, a police officer said on condition of anonymity. "The suicide bomber drove into the checkpoint and blew up his car amongst vehicles waiting to be searched," the officer said.
© Copyright Thomson Reuters 2023. All rights reserved.