Iraqi Shiite Militias Fighting ISIS Are Using Social Media To Recruit Foreign Fighters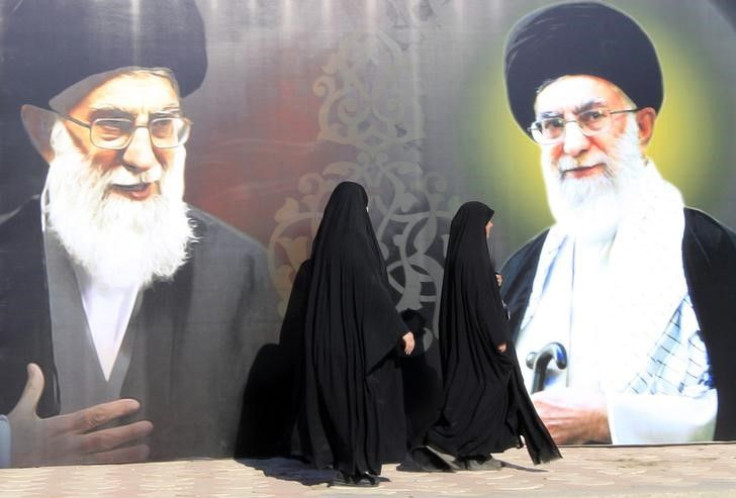 The majority of the forces battling the Islamic State group to retake Tikrit in Iraq are various Shiite militias, most of them supported by Iran and some of them even appearing on the U.S. State Department's list of foreign terrorist organizations. And, just like the Islamic State group, they've been recruiting fighters by the thousands with a campaign that includes well-produced videos, graphic images and expert use of social media.
That Internet-based campaign has attracted Shiite fighters from all over the world to Iraq, where the rise of the Sunni militant group formerly known as either ISIL or ISIS -- and the weakness of the Iraqi army -- have amplified the call for a global Shiite coalition to defend the sect's holy sites, many of which are in Iraq. About two-thirds of the country's 32 million people are Shiite Muslims.
The recruitment push has helped find men to send to the front lines in an offensive against the Islamic State group that's already producing results, and it may even be more effective than the one mounted by the opposing militant group.
"They know how to get people into the mix, they know how to keep getting people information," said Phillip Smyth, a University of Maryland researcher who studies Shiite militias in Iraq, Lebanon and Syria. "I would actually make the argument that it's more advanced than ISIS. They've got very good graphics ... and no one pulls it down," he said, in a reference to the blocking of accounts related to the Islamic State group on Facebook and Twitter.
But Iran-backed militias had already been recruiting in Iraq months before Mosul, the country's second-biggest city, fell to the Islamic State group in June -- and they were doing so with decidedly low-tech means. Using posters and calls for recruits on Iraqi television stations, they were able to exploit their local reach to great effect.
"For Iraqi Shia, they can just go the local Shia mosque ... and ask to join a certain militia in the fight against ISIS," said the pseudonymous Sinan Adnan, an Iraq analyst at the Institute for the Study of War. "Although they do need to have online recruitment, I don't think it is as robust or as needed as it is for other groups who cannot be as open about their recruitment apparatus."
Shiite militias can also use Iran-backed TV channels to widen their reach. In June, Kataib Hezbollah, aka Kata'ib Hizballah, a U.S.-designated foreign terrorist organization with direct ties to Iran, showed recruitment contact information on Al-Etejah TV, a pro-Iran channel. A month later, the same militia broadcast an appeal for donations complete with bank-account information, footage of which which was then cut and distributed as a YouTube clip to garner more donations from Shiites outside Iraq.
By the time the Islamic State group had taken Mosul, both Iran and its Lebanon-based proxy Hezbollah had deployed their own forces to Iraq to begin training fighters in recently formed offshoot brigades. But they realized they had to expand the recruitment base, so they ramped up the online campaign to attract fighters from other countries. The fighters' destination would be not only Iraq but also Syria, where Iran and Hezbollah are fighting in the civil war on the side of President Bashar Assad, whose Alawite sect is a Shiite offshoot.
Syria was in fact where the recruitment started. Iran and Hezbollah have been recruiting Shiite fighters since they became involved in the civil war in early 2013. Thousands of Iraqi and Afghan Shiites flocked to defend Syrian holy sites. Many were trained in Lebanon and Iran before being deployed to Syria, and they were paid salaries by the Iranian government.
A year later, the brutal tactics employed against Sunnis by Iraq's Shiite Prime Minister Nouri al-Maliki were deepening the sectarian violence in the country, prompting Iran to expand its proxy presence in Iraq by redeploying some brigades and fighters from Syria. Those included some of the best fighters, like those with the Kataib Hezbollah, Asaib Ahl al-Haq and the Badr Organization, which have longstanding ties to Iran and receive weapons, training and funding from the Shiite regime there.
Among the brigades transferred from Syria to Iraq were certain elements of the Syrian-born Liwa'a Abu Fadl al-Abbas (LAFA), aka the International Brigade. It is composed of a mixture of Iranian-backed Iraqi fighters and Lebanese Hezbollah fighters, according to Jihadology's Hizbollah Calvacade, a prominent blog focusing on open-source jihadist content.
By the time the battle for Tikrit began last week, there were roughly 50 Shiite militias operating in Iraq with between 100,000 and 250,000 fighters. Many Iran-backed militias have banded together to form the Popular Mobilization Committee, whose chairman, Abu Mahdi al-Muhandis, affiliated with both the Iranian armed forces and Kataib Hezbollah, is on the U.S. Treasury Department's designated terrorist list "for threatening the peace and stability of Iraq and the government of Iraq."
The ranks of these 50 or so militias are now being replenished from all over the Shiite world.
"Social-media recruitment is now being expanded to attract fighters throughout the Middle East, South Asia, and the West," according to a Washington Institute for Near East Policy report titled "The Shiite Jihad in Syria and Its Regional Effects."
Foreign fighters looking to join Shiite militias in Syria and Iraq usually come from nations with very large Shiite communities, or with a significant Lebanese diaspora, which acts as recruitment basin for Hezbollah. The world's largest Shiite population is in Iran, with about 70 million, followed by Pakistan and India, each with more than 20 million, according to Pew Center estimates. Large populations are also living in European countries such as Albania, Germany and Norway, as well as several African nations.
Harakat Hezbollah al-Nujaba, an Iranian proxy militia active in both Syria and Iraq that was formed in 2013, began posting online recruiting propaganda aimed at Pakistani Shiites in September. In June, 25,000 Indian Shiites enlisted in the Delhi-based Anjuman-e-Haidari organization, volunteering to fight in Iraq. It is unclear how many actually made the journey.
Each militia could have dozens of different Facebook pages, Twitter handles, YouTube accounts and even official websites where it posts news, photographs and videos of recent operations, so-called martyr announcements and propaganda posters. Within that onslaught of propaganda -- replete with content that sometimes rivals that of the Islamic State group in brutality -- are email addresses and even phone numbers for recruiters, making it easy for anybody interested to reach someone who can get them started.
Last month, the Iranian proxy militia Kataib Sayyid al-Shuhada posted a photo to its official Facebook page honoring four militia martyrs while hundreds of presumably Iraqi Shiites rallying below the group's flag. The fine print at the bottom of the photo said, "For enrollment to defend the holy sites ... call the following number."
"There are people in the U.S., Canada and other places who have been calling into the numbers," researcher Smyth said. "For Westerners who are experienced on social media, particularly young people, it's very easy. If you were really looking and really eager to be recruited, you would find it."
U.S. authorities do not condone this behavior. The Islamic State group may be an avowed American enemy, but Iran is no ally, and several of those militias are considered to be terrorists by the State Department. "The U.S. government does not support U.S. citizens traveling to Iraq or Syria to fight against ISIS," a State Department official said. "We are also unaware of any significant effort by U.S. citizens to join Shia militia groups in Iraq or Lebanon."
It would not be easy for an American to join a Shiite militia, anyway. Well-supplied with fighters from the Middle East and surrounding regions, the militias can afford to be selective when recruiting Westerners. However, callers from North American countries "were never discouraged," Smyth said.
A candidate calling the recruiter hotline for a particular militia would have to pass a preliminary interrogation that could include questions about religion, personal information and reasons for wanting to fight.
"Sometimes they'd say, 'Well, we only need Iraqis right now.' Other times they'd say, 'Of course, we're very intrigued if you're coming from Sweden or Germany, what else can you provide the resistance?" Smyth said, citing one Facebook example that claimed the militia "would check all the background details and if you didn't hear back from them in three days, you weren't selected."
© Copyright IBTimes 2023. All rights reserved.