Isiah Thomas' Bad Blood With Michael Jordan Still Prevalent
KEY POINTS
Isiah Thomas' bad blood with Michael Jordan still exists
Thomas feels he was better player than Jordan
Jordan's ill-feelings from 80s to 90s battle still lingers
Isiah Thomas is no stranger when it comes to controversy. But there is perhaps no better issue that most are debating other than who is better between him and Michael Jordan.
For NBA fans, the answer to that may be a no-brainer. Most know what Jordan had accomplished during his run with the Chicago Bulls from 1984 to 1993 and then again from 1995-1998.
Of the two runs, most know the rivalry that ensued between the Bulls and the Detroit Pistons from 1988 to 1991.
Much of what happened at that time was narrated on ESPN's "The Last Dance" documentary series. Without question, Jordan and Thomas never liked each other, same with other players from both sides. For some, the feud did not appear serious with most treating it like any ordinary one.
That was until Thomas got to watch the documentary which he said he watched with great fascination and disappointment.
Thomas appeared on Club Shay Shay hosted by former NFL star Shannon Sharpe, alleging he never realized that Jordan felt that way about him.
"It seemed like there was only one person who had a problem with it and that was Jordan. At that time, I didn't realize–and even until I watched 'The Last Dance'–I didn't realize that he felt the way he felt about me. I had never had no bad words with him," he said.
Now, some have taken the comments of Thomas as another swipe at Jordan. When asked to rank the five toughest players he played against during his NBA career, he put "His Airness" at No. 5 behind other legendary names that included Magic Johnson, Kareem Abdul-Jabbar, Larry Bird and Julius Erving.
But the ranking was not what most paid attention to. It was Thomas saying he believed he was more dominant than Jordan. For some, that was another jab tied to the bad blood that appears to be still prevalent.
"Just head-to-head, I was dominant over him," he stated. "Until '91, when I basically had career-ending wrist surgery, up until then, my record against him and his team—it really wasn't competition there."
One memorable moment during that rivalry was the infamous no-handshake incident that occurred in 1991. After the Bulls sweep of the Pistons, Thomas and his teammates would leave the court with 7.9 seconds still left on the clock, NBC Sports reported.
Thomas alleged that this was the same treatment they got from the Boston Celtics in 1988.
So was Thomas trying to squirm out of the no-handshake issue game? The only thing certain is that Jordan is not entirely buying his explanation and that the personal tension remains.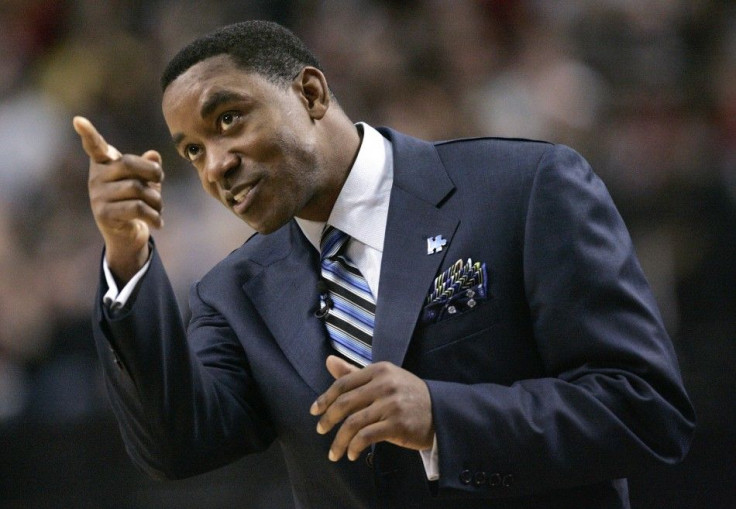 © Copyright IBTimes 2023. All rights reserved.