ISIS-Aligned Fighters In Libya Clash With Misrata Militias Outside Oil-Rich Port City Of Sirte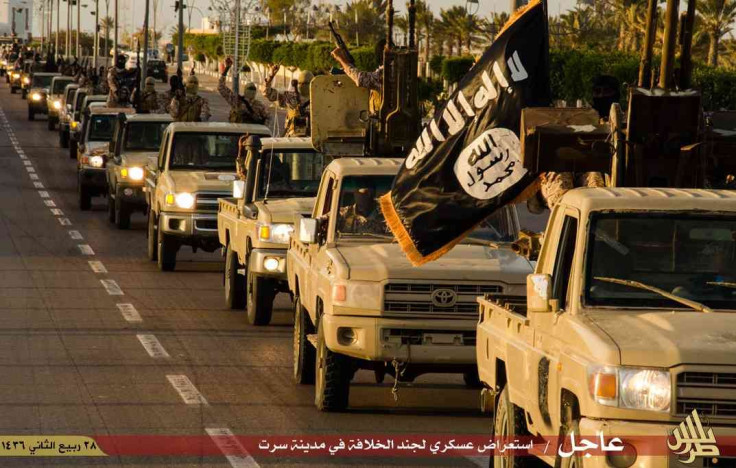 Libyan supporters of the Islamic State group have made one more enemy in the Libyan civil war. For the first time since the group declared its presence in the country last month, militants clashed with Libya Dawn's forces during the weekend in the coastal city of Sirte, the hometown of ousted dictator Moammar Gadhafi and one of the country's biggest oil ports.
Libya Dawn's Islamist forces and some secular militias from Misrata are loyal to the General National Congress in Tripoli that has been vying for control of the country over the internationally recognized House of Representatives. HOR has been forced to operate in the East since the GNC seized the capital last year. The groups are fighting each other and now also are fighting to push back militants from the group, also known as ISIS, active in small pockets along the country's coastline.
Clashes are ongoing and have so far killed 24 ISIS fighters. Additional reinforcements were en route to the town from Misrata Monday, officials in Misrata told the Independent. The 166 Brigade, comprised of forces from at least six militias from the city of Misrata loyal to Libya Dawn, is leading the clashes against alleged ISIS militants just outside Sirte. Though Libya Dawn is often portrayed as an Islamist coalition, the Misratan militias are considered moderate to secular, and with roughly 40,000 fighters are a key player in Libya's civil war.
ISIS Monday reportedly kidnapped four nurses from the Philippines from the hospital where they worked in Sirte, the Associated Press reported. Last week, gunmen allegedly aligned with the militant group took nine foreigners hostage and beheaded eight Libyan guards when they raided an oil field in central Libya.
Ongoing clashes between warring factions in Libya and and militant infiltration pose a serious threat to the country's major European drilling operations and the flailing Libyan economy. Oil production "is the lifeline of the Libyan people," military spokesman Ahmed al-Mesmaro said last week.
Spain Monday urged the European Union to consider implementing an embargo on Libya's oil assets if the United Nations-backed negotiations between HOR and the GNC fail to produce a political agreement. Negotiations began earlier this month and were set to resume last Wednesday in Morocco; however, the HOR delegation did not attend. Talks carried on without the representatives from the internationally recognized government Friday.
Even if a political truce is agreed, it is unlikey to bring an end to some of the worst fighting Libya has seen since Gadhafi was ousted in 2011. Negotiations failed to include representatives from other armed factions and tribal forces, including the militias in Misrata. Their support is crucial to fighting ISIS and essential to the success of any unity government.
© Copyright IBTimes 2023. All rights reserved.
FOLLOW MORE IBT NEWS ON THE BELOW CHANNELS