Is ISIS In America? Hundreds Of US Islamic State Sympathizers Have Tried To Travel To Syria Or Iraq: Report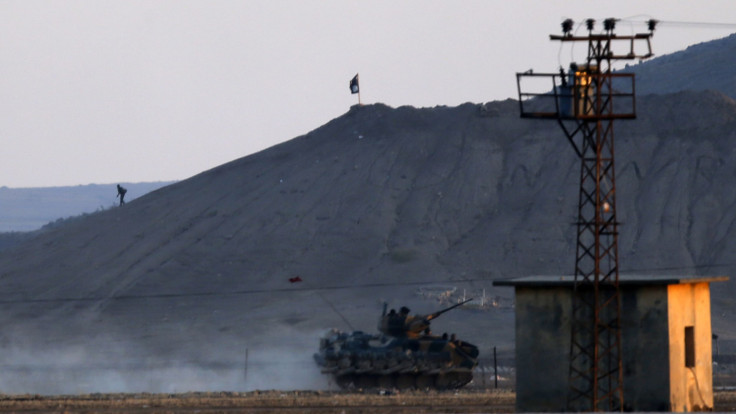 More than 200 U.S. citizens have traveled or attempted to travel to Syria or Iraq to join the so-called Islamic State group, U.S. authorities said, according to a new report. Just weeks after the deadly Paris terror attacks, for which the terrorist organization claimed responsibility, the report said ISIS mobilization in the U.S. is "unprecedented."
The report, from George Washington University's Program on Extremism, is titled "ISIS in America: From Retweets to Raqqa," using another name for the group. The report states about 250 Americans have tried to make the trip to the Middle East to join ISIS and that across all U.S. states, authorities are actively looking into supporters of the terror group. Since March 2014, 71 U.S. citizens have been charged with activities related to ISIS.
Most of the people charged are young -- the average age is 26 -- and more than 85 percent are male. Some 27 percent of those charged were allegedly involved in attack plots on the United States, according to the report, which also noted that social media plays an important role in radicalizing U.S. ISIS sympathizers. However, mobilization is not limited to the Internet, as many of the sympathizers have been radicalized through person-to-person relationships, the report noted.
"The spectrum of U.S.-based sympathizers' actual involvement with ISIS varies significantly, ranging from those who are merely inspired by its message to those few who reached midlevel leadership positions within the group," the report's authors wrote.
In November, the U.S. Department of Justice arrested Terrence McNeil for soliciting the murder of U.S. military personnel. McNeil, who allegedly supported ISIS numerous times on social media, was accused of posting names of military members online and calling on others to carry out their murders, the department said. However, the report's authors said many people who have expressed support for ISIS will most likely not take to militant action.
"The diversity of ISIS' American recruits and the wide range of ways they demonstrate their support requires careful consideration prior to any potential policy response," the report said. "Because there is no standard recruit profile, there is also no silver bullet that will blunt ISIS' allure."
© Copyright IBTimes 2023. All rights reserved.