ISIS Atrocities In Iraq And Syria Labeled As 'Genocide,' US House Representatives Vote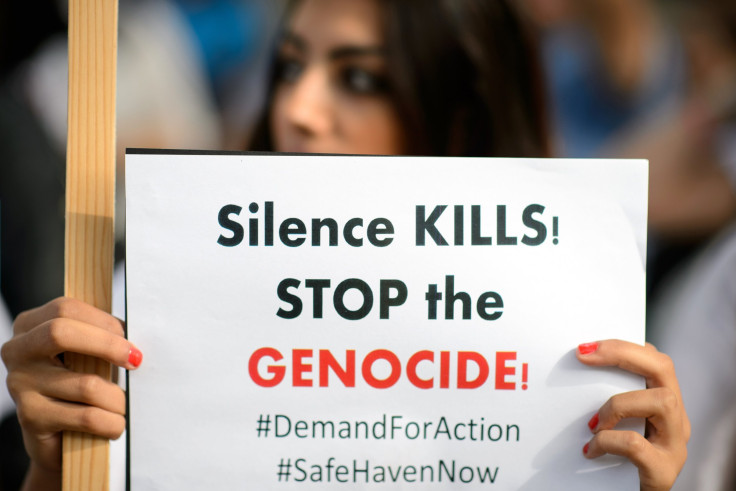 U.S. lawmakers approved a resolution Monday condemning the Islamic State group's targeting of religious minorities in Iraq and Syria as "genocide." The House of Representatives unanimously passed a non-binding resolution by a vote of 393-0.
The resolution took place following pressure on U.S. President Barack Obama's administration to call attacks against Christians, Yazidis and other minorities "war crimes, crimes against humanity and genocide."
"What is happening in Iraq and Syria is a deliberate, systematic targeting of religious and ethnic minorities," House Speaker Paul Ryan, a Republican from Wisconsin, reportedly said. "Today, the House unanimously voted to call ISIS's [Islamic State group] atrocities what they are: a genocide."
ISIS has been accused of committing egregious human rights atrocities against its opponents, most of whom are Muslim. But the militant group has particularly targeted minorities, including Assyrian Christians and Yazidis, whom it considers apostates and disbelievers.
House representatives also voted for a resolution asking the White House to urge the U.N. Security Council to immediately establish a Syrian war crimes tribunal, calling actions by Syria's government and others "gross violations of international law amounting to war crimes and crimes against humanity."
A March 17 deadline has been set by the Congress for the State Department to formally decide to issue an extensive genocide designation for ISIS. However, it is believed that the deadline will be missed, Agence France-Presse reported.
Kerry reportedly needs to consider whether the ISIS' targeting of Christians and other minorities meets the legal definition of "genocide," which is "acts committed with intent to destroy, in whole or in part, a national, ethnic, racial or religious group," as defined by the U.N. Convention.
"This has to be done on the basis of the legal standard with respect to genocide and the legal standard with respect to crimes against humanity," Kerry said in congressional testimony late last month, according to the Associated Press. "I have asked for further evaluation based on what I've heard in order to test against the law some of my own perceptions and evaluations and see where we come out."
Foreign Affairs Committee Chairman Ed Royce, a Republican from California, urged the White House to take a swift decision.
"ISIS is guilty of genocide," Royce reportedly said. "It has been using mass murder, beheadings, crucifixions, rape, torture and enslavement in its deliberate campaign to eliminate religious minorities and bulldoze their history."
Royce also urged the Obama administration to "seek accountability for [Syrian President] Bashar Assad's heinous war crimes against his own people," pointing that more than 18,500 children are among the hundreds of thousands of people killed in the brutal conflict in Syria.
Last month, the European Parliament unanimously backed a resolution characterizing ISIS' atrocities in Syria and Iraq as genocide.
© Copyright IBTimes 2022. All rights reserved.
FOLLOW MORE IBT NEWS ON THE BELOW CHANNELS