Pope Francis Condemns 'Genocide' Of Christians In Middle East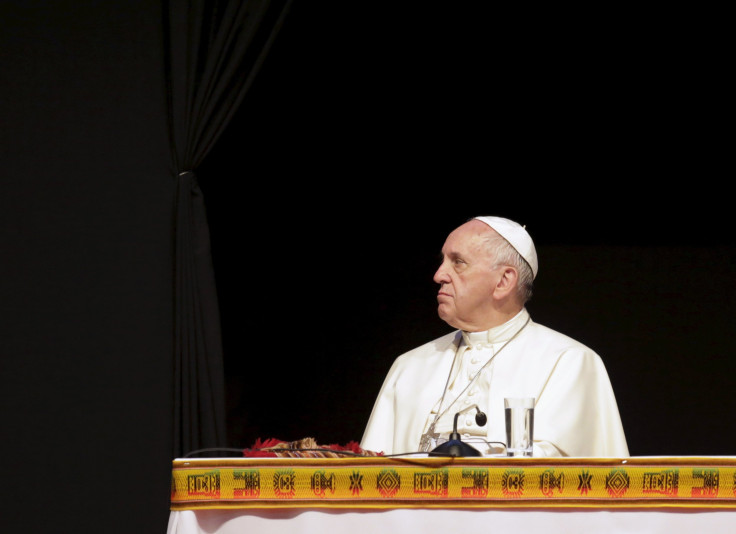 Pope Francis on Thursday condemned the killing of Christians in the Middle East, calling it "genocide" and a "third world war," in an address to the World Meeting of the Popular Movements in Santa Cruz, Bolivia. The pope has expressed grave concern in the past about the dangers faced by Christians around the world, including in territories controlled by the Islamic State group.
"Today we are dismayed to see how in the Middle East and elsewhere in the world many of our brothers and sisters are persecuted, tortured and killed for their faith in Jesus," he said, according to Firstpost. "In this third world war, waged piecemeal, which we are now experiencing, a form of genocide is taking place, and it must end."
The pope is in Bolivia as part of a three-nation tour of South America, which also includes Ecuador and Paraguay -- the poorest countries in the continent.
Francis' comments come in the wake of the recent persecution of Christians at the hands of militants. In February, the Islamic State group released a video that showed 21 Egyptian Christians being held in a beach believed to be in Libya. The captives were forced down on their knees and beheaded.
Another video posted in April showed about 30 Ethiopian Christians being shot and beheaded by ISIS militants in Libya. An ISIS spokesman reportedly said at the time that the killings were carried out against the "followers of the cross," and threatened to kill more Christians unless they convert to Islam.
Following this, Francis had said at a Good Friday service that "we see in you our persecuted brothers, beheaded and crucified because of their faith in you, before our eyes or often with our complicit silence."
The European Parliament has also condemned the persecution of Christians in the Middle East. In a March report, it found that over 70 percent of Iraqi Christians and over 700,000 Syrian Christians have been forced to flee their countries since 2011.
© Copyright IBTimes 2023. All rights reserved.
FOLLOW MORE IBT NEWS ON THE BELOW CHANNELS