Jordanians Angry About Kaseasbeh's Death As Some Reconsider Views On ISIS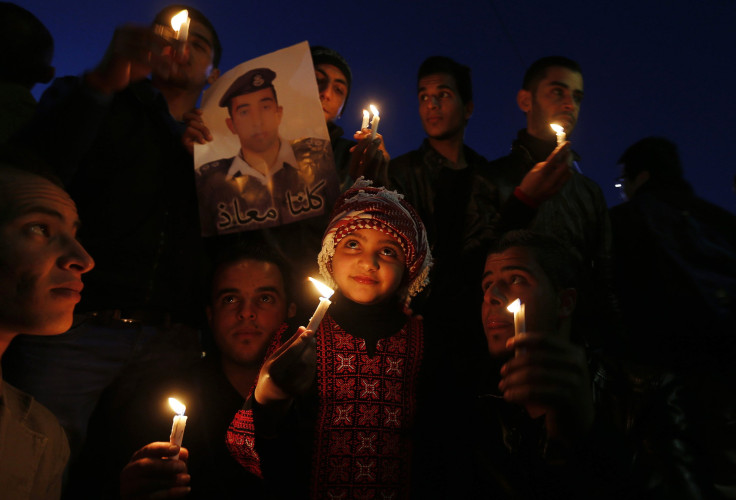 The brutal killing of Moaz al-Kaseasbeh has provoked an outpouring of emotion from fellow Jordanians, with many holding rallies, gatherings and religious services Wednesday in memory of the pilot burned alive by the Islamic State militant group. Some Jordanians once wary of their government's battle against the Islamists also known as ISIS said they would likely support future efforts to wipe out the militants as the government weighed how it should respond.
"They're beasts," Fatema Dahamsheh, who runs a facility for handicapped people in Duleil, an industrial area east of Amman, said of ISIS in a telephone interview Wednesday. "They're animals. They're not people. We want Da'esh [Arabic for ISIS] to die."
Dahamsheh said ongoing airstrikes targeting ISIS in Iraq and Syria should increase and called for the whole world to come down on ISIS. "Let them put troops in," she said of the Jordanian government's anti-ISIS efforts in Syria. She condemned the fact that ISIS said it was killing in the name of Islam. "Islam doesn't do this. No religion does this," she said.
Negotiations last week between Jordan and ISIS to exchange hostages did not proceed because ISIS did not provide proof that Kaseasbeh was alive. After news of his death emerged late Tuesday, Jordan executed two al Qaeda prisoners it was holidng on death row. One was a woman who would have been exchanged for Kaseasbeh. Media reports indicate Kaseasbeh was burned to death last month after the Islamic State captured him when his plane crashed near Raqqa, Syria, the group's de facto capital.
The biggest change in Jordan after the killing of Kaseasbeh was a greater acceptance of the war on ISIS, said Yarob Ababneh, a Jordanian who manages an ice cream shoppe. Before the pilot's death, Ababneh said he did not support Jordan's role in fighting ISIS. Now, "I fully support the war on ISIS," he said in a telephone interview, adding that he thought a "lots of Jordanians" had had similar changes of heart. Jordan is participating in the US-led coalition conducting airstrikes on ISIS in Syria that began in September 2014.
Ababneh did not support the war previously because he felt that he did not have a clear picture of what ISIS was doing. "Now, we are 100 percent sure that they don't represent Islam," he said of the group. He was not shocked to learn the news of Kaseasbeh's death. "We were expecting him to be killed," Ababneh said, "but not in the way we saw in the videos--not to be burned alive."
For Ababneh, the video was almost unreal. "The first time I watched it, I didn't believe it," he said. The production seemed so high-tech, so advanced, "it was like the video was captured in a studio, like in Hollywood," Abadneh said. "He was killed brutally."
Jordan "should continue...fighting with the rest of the countries against ISIS," Ababneh said. But he added that Jordan would now have to be more careful when addressing unrest or actions taken by ISIS supporters within the country. "They might try to do something to revenge the two people" that Jordan executed in retaliation, Ababneh said.
A widely cited poll by the University of Jordan's Center for Strategic Studies about whether Jordanians considered ISIS a terrorist organization has often been misconstrued as a gauge of support for the militant group. The poll, conducted in September 2014, found that 62 percent of Jordanians viewed the Islamic State as a terrorist organization, 10 percent did not and 28 percent did not know.
With the killing of Kaseasbeh, Jordanians have changed from being reluctant to support Jordan's role in the coalition against ISIS to being more supportive, said Daoud Kuttab, who founded the popular media outlet AmmanNet. People weren't angry with the government, "they're angry at the people who've committed this cruel act," he said.
Oday Baddar, who grew up all over the Middle East and now teaches at a private school in Amman, said what surprised him was that others found Kaseasebeh's death shocking. "For Jordanians it [ISIS] was never that personal," he said.
Many local businesses, publications and organizations posted thoughts and reactions to Kaseasbeh's killing on Facebook pages Wednesday. "May God have mercy on the martyr of Jordan, the pilot Mo'ath al-Kasasbeh," wrote Caffe Strada, an upscale coffee shop, in Arabic on Facebook above a picture of the pilot. City Mall, one of the city's largest, made its Facebook profile picture an image of Kaseasbeh and offered condolences to his family, above posts for makeup and Levi's.
FOR FREE to continue reading
✔️ Unlock the full content of International Business Times UK for free
offer available for a limited time only
✔️ Easily manage your Newsletters subscriptions and save your favourite articles
✔️ No payment method required
Already have an account?
Log in
© Copyright IBTimes 2023. All rights reserved.