ISIS Cannot Be Defeated By Coalition Airstrikes, Iraqi MP Says; 17 Airstrikes Conducted This Week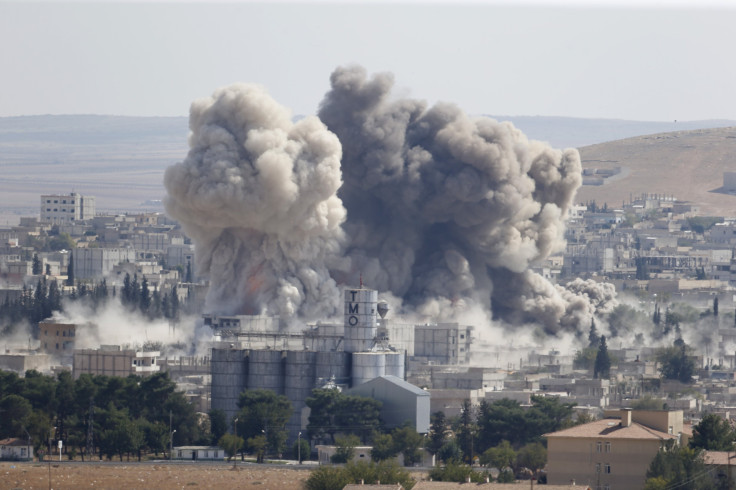 U.S.-led airstrikes have been less effective against the Islamic State group than Iraq's army, an Iraqi parliamentarian said Thursday, and speculated that the coalition might be helping the militants by allowing them to intercept weapons intended to arm Kurdish fighters, according to a local report.
Iraqi State of Law Coalition MP Hanan Fatlawi's statement follows an admission by the U.S. last month that some of the airdropped weapons intended for Kurds in the Syrian town of Kobane were seized by ISIS militants. Fatlawi also sought to downplay the impact coalition airstrikes have had on ISIS' advance in Iraq. The U.S. and its allies are currently conducting airstrikes on ISIS in Syria and Iraq, and are also aiding Kurds and the Free Syrian Army to push back the extremist group's advance.
"The airstrikes cannot defeat ISIL and liberate the cities. We hear that in some places the warplanes drop weapons for ISIL... What we know is that the victories achieved on the ground are done by the Iraqi army and volunteers," Fatlawi told Press TV, an Iranian news network, in Baghdad. "The presence of the international advisers in such huge numbers is not necessary. We are in a war and this is not the time for training, it's the time for fighting. I think this is an effort by the US to come back to Iraq," she said.
In October, a video published by ISIS showed boxes of weapons including rifles, hand and rocket grenades and other ammunition. The Pentagon subsequently said that the arms were dropped by its planes and were intended for Kurdish fighters in Kobane.
On Wednesday, the U.S. Central Command announced that American forces had led 17 airstrikes on ISIS in Iraq and Syria since Monday. The strikes, which are part of Operation Inherent Resolve, launched against the Islamic State group, included 10 attacks near Kobane that hit six ISIS fighting positions and four staging areas.
In Iraq, two airstrikes near Mosul destroyed ISIS vehicles, buildings, a fighting position and a large ISIS unit. Targets also were hit near Kirkuk, north of Sinjar, northwest of Ramadi and west of Baiji, according to Central Command officials.
On Tuesday, United Nations Secretary General Ban Ki-moon released a report, which said that about 50 civilians in Syria have so far been killed in airstrikes carried out by the U.S.-led coalition, the Huffington Post reported.
"The international coalition continued airstrikes against ISIL in Syria on a near-daily basis with reports of some 865 people killed, including 50 civilians" since strikes began, according to the U.N. report.
© Copyright IBTimes 2023. All rights reserved.
FOLLOW MORE IBT NEWS ON THE BELOW CHANNELS