A-10 Thunderbolt Deployed To Iraq For Fight Against The Islamic State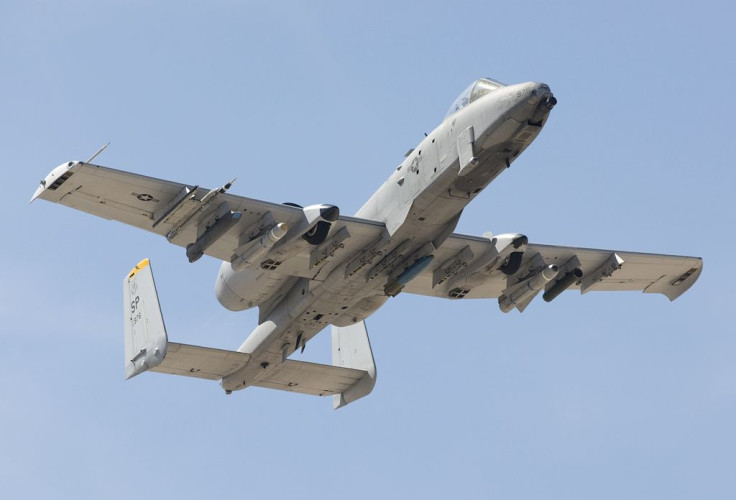 The once-endangered A-10 Thunderbolt aircraft, saved from the scrap heap by Congress earlier this year, will now fly operations in Iraq after previously being deployed to Afghanistan this year. Only a handful of the aircraft will make the journey to southwest Asia to take part in the fight against ISIS, the rest remaining behind in Afghanistan.
According to Air Force Central Command, the aircraft arrived over four days between Nov. 17-21 as part of the newly reformed 332nd Air Expeditionary Wing, which was disbanded after 10 years of service in the Middle East. It provided security during the withdrawal of U.S. forces from Iraq.
The initial deployment to Afghanistan in September involved 300 airmen from the Indiana National Guard, specifically from the 163rd Expeditionary Fighter Squadron based at Fort Wayne, Indiana, also known as the "Blacksnakes."
While the Pentagon tried to get rid of the aircraft, chiefly because of upcoming sequestration in 2016, Congress unanimously saved it at the eleventh hour.
The low-flying aircraft, also known as the Warthog, is a favorite among ground troops as it offers accurate and powerful ground support that other fighter-bombers, which must fly higher and faster, cannot provide.
"They're going over there because there's a need … to be postured for a combat rescue mission," said Jennifer Cassidy, an Air Force spokeswoman. "While they're there, we will maximize their use," Cassidy said.
The aircraft will be used against the Islamic State group, which has until now been targeted by airstrikes from high-flying U.S. and coalition aircraft.
The Air Force did not specify how many A-10s were in theatre except to say that it was an "expeditionary squadron-sized element." The service also declined to say where the A-10s would be stationed during the operations, due to diplomatic sensitivities.
This most recent deployment comes after the Republicans won the Senate, likely thrusting John McCain to the chairmanship of the Senate Armed Forces Committee. The Vietnam veteran has been a key advocate for the aircraft, and his leadership, which is yet to be confirmed, will likely see the aircraft's services retained for years to come.
© Copyright IBTimes 2023. All rights reserved.