ISIS Chemical Gas Attack: 22 Syrian Rebels Exposed, Turkey Says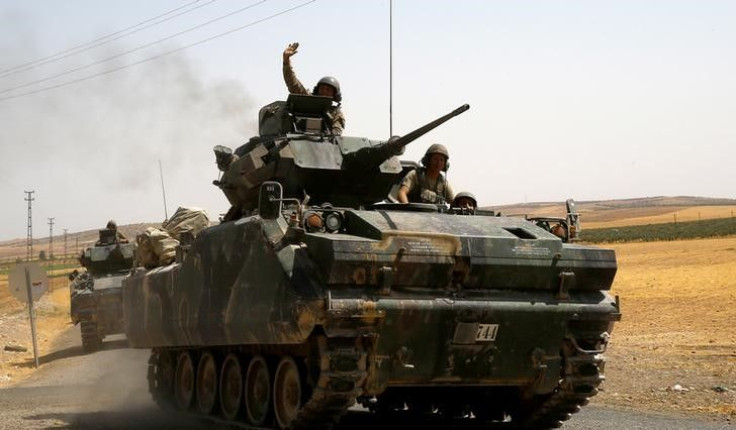 Twenty-two Syrian rebels were exposed to a chemical gas attack by the Islamic State, also known as ISIS, in northern Syria, the Turkish army said Sunday. ISIS has previously been accused of using mustard gas in Syria, but this is the first time Turkey has blamed the extremist group of waging chemical warfare.
The attack took place in Khaliliya village east of Al Rai, northern Syria, where pro-Turkey Syrian rebels are fighting to clear the border area of extremists. The army did not specify the type of gas used in the attack.
"After a rocket was fired by Daesh [an Arabic acronym for ISIS], 22 opposition members were observed to have been exposed in their eyes and bodies to chemical gas," Turkish army staff said, according to reports.
The affected fighters were transported to the Turkish border town of Kilis by emergency personnel and were undergoing treatment.
Meanwhile, in a separate ISIS-related development, Israeli aircraft hit a machine gun-mounted vehicle in Syria Sunday, claiming lives of four militants, Israeli army said. The Islamic fighters had opened fire on a military patrol on Israel's side of the Golan Heights, according to the military. No Israeli troops were harmed in the incident.
Lt. Col. Peter Lerner said the Israeli patrol responded to the attack by the militants before the aircraft struck the vehicle and killed its passengers. He added the militants were likely from an ISIS-affiliate.
© Copyright IBTimes 2023. All rights reserved.