ISIS In Jordan: Terrorists Sentenced To Death After Attack That Killed Police Officer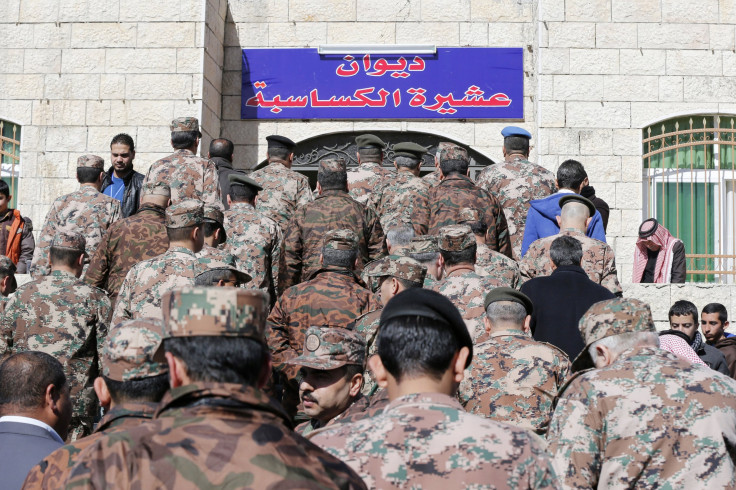 Five members of the Islamic State group were sentenced to death in Jordan after a raid in March that killed a police officer. Jordan's State Security Court sentenced the five men to death by hanging and sentenced another 15 alleged ISIS members involved in the attack to imprisonment with hard labor on Wednesday, according to state news agency Petra.
The 20 men were arrested in March during a raid of their hideout in Irbid, 12 miles from the Syrian border, when specialized security forces were deployed against the armed militants. Seven militants and a Jordanian police officer named Rashed Zyoud were killed in the resulting clash, according to the Jordan Times.
The men were charged with carrying out terrorist acts that led to the death of an individual, complicity in terrorist acts, manufacturing and possessing explosive substances with illicit intent and spreading terrorist ideologies. It was not the first time the state's Security Court has sentenced terrorists to death. In 2015, Jordan executed two convicted jihadists who burned alive a Jordanian pilot after his jet crashed in Syria.
Jordan is part of a coalition led by the United States battling ISIS fighters in both Syria and Iraq. The State Department issued a warning in December to anyone traveling to the country following a terrorist attack on Dec. 18 in which 10 people were killed.
"Terrorist organizations, including the self-proclaimed Islamic State of Iraq and the Levant (ISIL), its affiliates, and sympathizers, have successfully conducted attacks in Jordan and continue to plot assaults in the country," the warning said. "Jordan's prominent role in the counter-ISIL Coalition and its shared borders with Iraq and Syria increase the potential for future terrorist incidents."
Jordan has seen more than its fair share of terrorist attacks in recent years. In addition to the raid in March and the attack in December, a gunman killed five Jordanian security officers in Baqaa in June. In November 2015, a terrorist killed two U.S. citizens who were working at the Jordan International Police Training Center near Amman.
© Copyright IBTimes 2022. All rights reserved.
FOLLOW MORE IBT NEWS ON THE BELOW CHANNELS