ISIS Peter Kassig Beheading Video Shows Second Frenchman, Say Authorities Confirming His Presence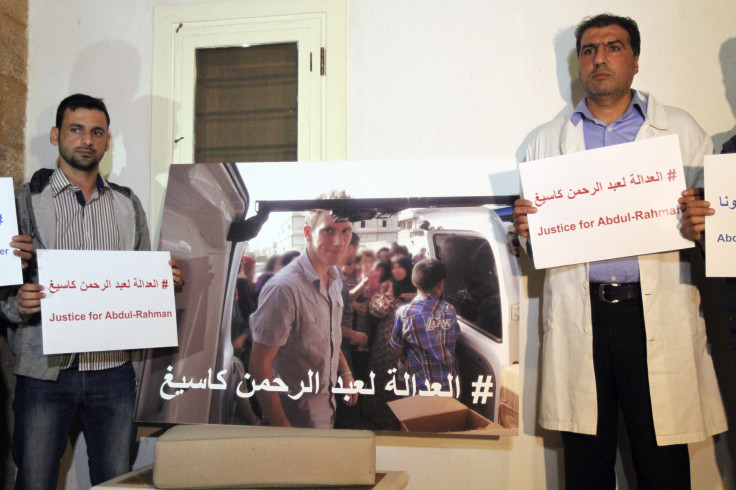 A second French citizen has been identified in the Islamic State group's latest video, which was released on Sunday and showed ISIS militants beheading many, including U.S. aid worker Peter Kassig.
Following the release of the new video, French authorities have identified one of the men seen in the ISIS video as a French national, after officials had identified another French national in the video earlier this week. France's President Francois Hollande said Wednesday that the roles of the two Frenchmen within the militant group are yet to be determined.
"All we can say for now is that there are two French people who have been identified," the Associated Press quoted Hollande as saying, without mentioning the name of the second citizen in the video.
"It seems that there is a second Frenchman," Reuters quoted Stephane Le Foll, a spokesman for France's government, as saying. "We are checking his identity."
On Monday, French government officials identified 22-year-old Maxime Hauchard from Normandy among the ISIS militants seen in the video announcing the death of American aid worker Peter Kassig, along with 12 Syrian military personnel.
"It [the video] has allowed us to identify one of the jihadis as French citizen Maxime Hauchard," Paris Prosecutor Frederic Molins told reporters on Monday. "There is the possible existence of a second Frenchman, but it is too early to say."
According to media reports, about 1,000 French nationals are thought to be fighting for extremist groups in Syria and Iraq. Overall, nearly 3,000 Europeans have joined jihadists in the Middle East, the Agence France-Presse reported, citing EU counterterrorism chief Gilles de Kerchove.
© Copyright IBTimes 2023. All rights reserved.