ISIS Releases Over 200 Yazidi Women, Children After 8 Months In Captivity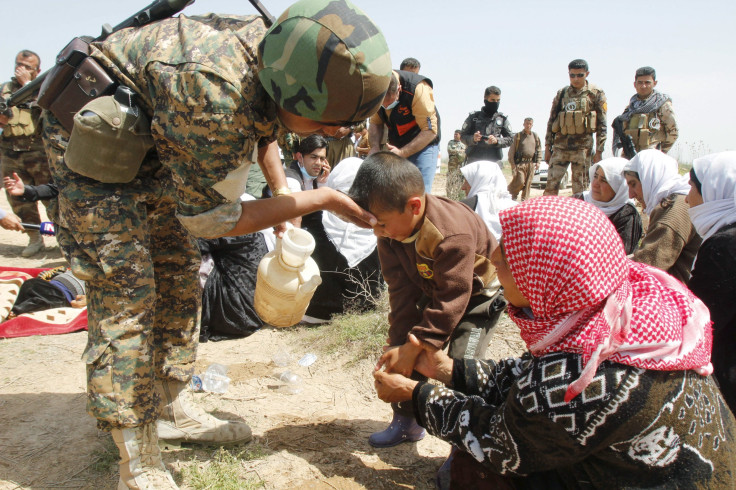 The Islamic State group released over 200 Yazidis held captive for over eight months on Wednesday, according to media reports. The Yazidis, who were handed over to Peshmerga forces near the Iraqi city of Kirkuk, are believed to be in poor health and reportedly bear signs of physical abuse and neglect.
Rassol Omar, a Peshmerga commander, reportedly said that most of those released were women and children. As of now, it is not clear why these people were released.
However, the United Nations, which has, in the past accused ISIS of attempted genocide against the Yazidis, welcomed the move. "I'm not aware of the circumstances of their release, but obviously, any release of innocent civilians is to be welcomed," U.N. spokesman Stephane Dujarric said in a statement.
Yazidis, who belong to an ancient religion that predates Islam and Christianity, have suffered intense persecution at the hands of ISIS, which has accused the former of being "devil worshippers." Since August last year, it is believed that hundreds of Yazidis have been killed and tens of thousands have been displaced after being forced to flee their homes in the Sinjar mountains in Iraq's north. Nearly 60,000 Yazidis have fled to the mountains outside Sinjar since the beginning of the ISIS onslaught, according to the United Nations.
In January, ISIS released about 200 Yazidi prisoners, mostly children and elderly people who may have been slowing down the militants. It is not yet clear how many Yazidis are still being held captive by the group.
In December last year, Amnesty International reported that thousands of women and girls, many of them as young as 12, belonging to the Yazidi community were raped, tortured and beaten by ISIS militants who sold them to sexual slavery.
© Copyright IBTimes 2023. All rights reserved.
FOLLOW MORE IBT NEWS ON THE BELOW CHANNELS