ISIS Responsible For Istanbul Attack? Suicide Bomber May Have Been Member Of Islamic State Or PKK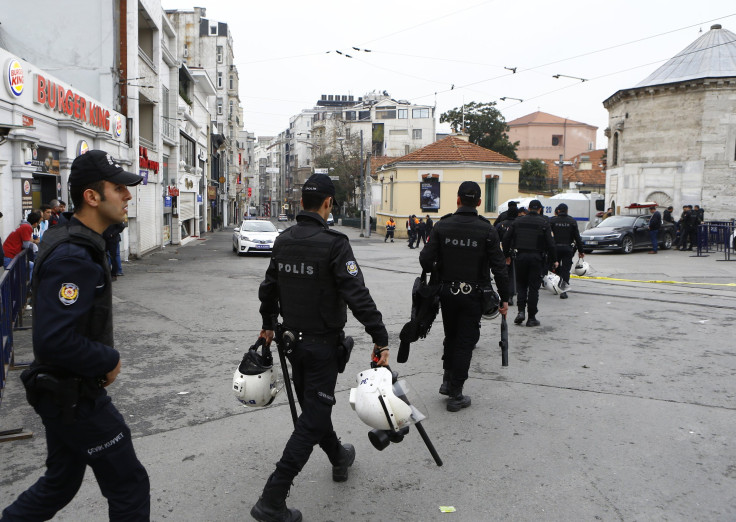 A suicide bombing that killed five people in Istanbul on Saturday may have been caused by a member of the Islamic State group, also known as ISIS, some media reports have said.
The ISIS-linked Savaş Yıldız may have been the suicide bomber; he was linked to the incident by body parts found on the scene, local media reported. Turkish security units were on high alert for Yıldız in October after authorities in the country came to believe he and three other ISIS terrorists had entered the country to carry out attacks.
The suicide bomber behind Saturday's attack could have also been a member of the Kurdistan Workers Party, an outlawed group that began an armed battle with the Turkish government in the 1980s, Reuters reported. An offshoot of the Kurdistan Workers Party, also known as the PKK, said it was responsible for suicide bombings last month in Ankara that left 66 people dead.
Saturday's suicide bombing occurred on the pedestrian shopping road Istiklal Street and wounded an additional 36 people. The suicide bomber also reportedly missed his initial target when he was deterred by police, and detonated the bomb on the street "out of fear," a senior Turkish official reportedly told Reuters.
"People didn't know what was going on. It was very chaotic. Everyone was screaming and running away," Uwes Shehadeh, who was about 500 meters from the attack, told the BBC. "Istanbul is on high alert, and people are very worried as to what will happen next."
Of the injured, three were Israeli tourists, the BBC reported. Some 12 of the injured were foreign nationals as well.
Turkey has suffered from numerous terrorist attacks in the past year. In Ankara in October, 103 people were killed and hundreds more wounded in a suicide attack on a peace rally, one of the deadliest recent attacks. ISIS alone has claimed responsibility for at least four bombings in the country since June 2015.
© Copyright IBTimes 2023. All rights reserved.