ISIS Threatens Bosnian Mufti: Heightened Security After Militant Vows To 'Cut The Throat' Of Top Muslim Leader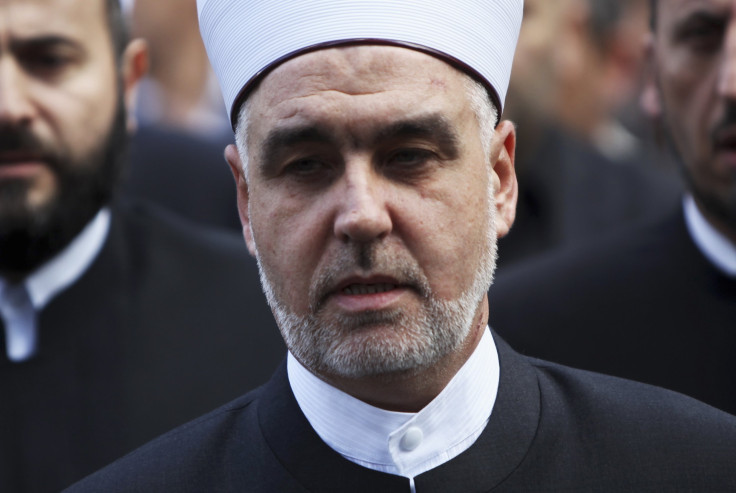 Officials are taking seriously a long-distance threat made against Bosnia's Grand Mufti Husein Kavazovic, Radio Free Europe Radio Liberty reported Wednesday. The religious cleric was singled out in a video clip by Amir Selimovic, a Bosnian man who left for Syria in 2014 to join the Islamic State group.
In the video, Selimovic, standing in front of the extremist group's flag, said fighters were "coming to Bosnia" and vowed to "cut the throat" of the grand mufti, a religious title for an Islamic jurist. Kavazovic has been a strong critic of extremism, denouncing radicalization among Bosnian Muslims. Bosnian Security Minister Dragan Mektic said authorities were taking "additional security measures," though reports did not provide additional details.
The reported "seriousness" with which officials are taking the threat was seen to reflect growing fears that hotbeds for extremism are gaining ground in the southeastern European nation. About 200 Bosnians are believed to have joined the Syrian-based extremist group, also known as ISIS. About 26 of them are estimated to have been killed, according to authorities, and about 50 have returned to Bosnia. Muslims make up about 40 percent of Bosnia's population of almost 3.8 million people.
Those who knew Selimovic said he used to drink regularly, alienating his family, before "turning to radicalism" and saying he would do "something for which all of Bosnia would remember him," RFE/RL reported. He was believed to have met and been recruited by extremists while in Bosnia.
"The Islamic community of Bosnia takes seriously threats... to (Bosnia's) Muslims and the Grand Mufti Husein Kavazovic," a statement released from Kavazovic's office read, Agence France-Presse reported.
A purported threat posed by European nationals who had joined the fight in Syria and returned home has become a growing concern among both authorities and Muslim community leaders. Five days after attacks in Paris, France, killed 130 people, two Bosnian soldiers were killed in Sarajevo. The attackers were suspected extremists.
Late last year, a group of Bosnian Muslim leaders announced that they would integrate some 60 unregistered worship sites that were suspected to be hotbeds of radicalization in hopes of reining them in.
© Copyright IBTimes 2023. All rights reserved.