ISIS Turkey Explosion In Suruc? At Least 27 Dead In Turkish Border Town As Islamic State Suspected For Bombing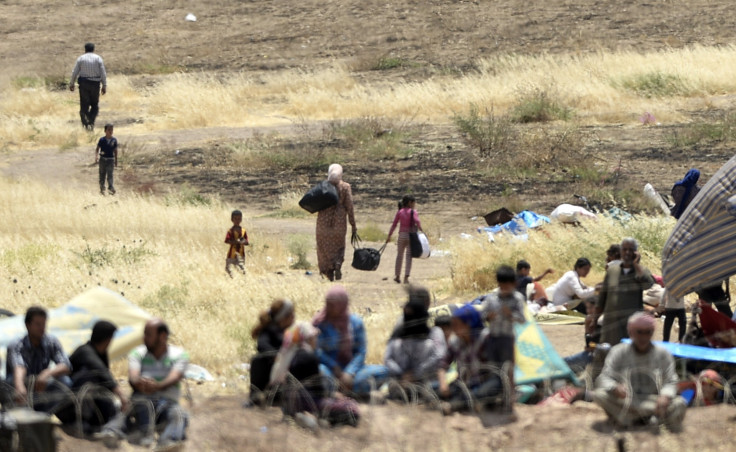 A deadly explosion at a cultural center in the southern Turkish town of Suruc has left at least 28 people dead, media outlets reported Monday. There was speculation the explosion may have been caused by a suicide bomber linked to the Islamic State group, which controls territory along Turkey's porous border with Syria.
The blast targeted the Amara Culture Center run by the municipality under the control of the Peoples' Democratic Party (HDP), a Kurdish left-wing political party. The center has frequently hosted foreign journalists and volunteers working with refugees from Syria, Hurriyet Daily News said. At the time of the explosion, hundreds of members of socialist youth organizations were staying at the center to help rebuild the Syrian city of Kobani, which is just south of Turkey's border.
The predominantly Kurdish Syrian city of Kobani, aka Ayn al-Arab, was the site of intense fighting last year, as Islamic State group militants laid siege to the city and sought to capture it from Kurdish forces. Hundreds of thousands of residents fled the city amid the fighting, many of them settling in Suruc. Late last month, the militant group formerly known as either ISIL or ISIS launched a new offensive against the city, leading to more than 300 deaths.
Suruc, a district within the Sanliurfa province, is less than 30 miles from the border between Turkey and Syria. Despite hosting refugees, journalists and fighters, it had not experienced significant violence until Monday. Foreign embassies have advised travelers to avoid areas in proximity to the border since the outbreak of the Syrian Civil War.
In recent weeks, dozens of alleged Islamic State group members have been arrested in southern Turkey, as officials have sought to stem the flow of fighters to Syria.
In May 2013, a bomb killed 51 people in the southern Turkish town of Reyhanli, with the Islamic State group later claiming responsibility for it. In January, a female suicide bomber injured two police officers, one fatally, in an attack on a police station in Istanbul. Police continue to investigate the perpetrator's possible links to the militant group.
Also Monday, a blast detonated in Kobani, Reuters reported. The cause of the explosion was not immediately known.
After the bombing in Suruc, a Twitter hashtag #SuruçtaKatliamVar -- "There is a massacre in Suruc" -- began trending. Turkish authorities have vowed to bring the perpetrators to justice.
© Copyright IBTimes 2022. All rights reserved.
FOLLOW MORE IBT NEWS ON THE BELOW CHANNELS